Applications are invited for the CTI Jobs 2020 College Teaching Interns with a 45000 Monthly stipend. The vacancies are announced by CTI Jobs 2020 College Teaching Interns | Stipend 45000 Monthly. These Latest Government Jobs are for Male & Female and both can apply for these jobs. There are the following posts or positions offered by Jobs in Pakistan.
CTI Jobs 2021 is announced officially By the Higher Education Department of Punjab for  CTI Jobs 2021 in Colleges of Punjab.
CTI Jobs 2021 Interview Preparation is mostly questioning comes from the relevant subject and general knowledge.
CTIs The CM Punjab has approved the recruitment of College teaching internees in all the colleges of the province. Candidates can apply in any district of Punjab.
The Government colleges boys and girls will display the list of CTI Jobs 2020 vacancies and Number of vacancies alongside straight related Subjects on Notice Board in all colleges.
M.Com and MBA candidates can apply so visit your nearest commerce college for detail if the seat is vacant. The percentage and division counted for CTIs Jobs.
The eligible candidates with the required qualifications can apply for the CTI Jobs 2020 College Teaching Interns | Stipend 45000 Monthly. The details and descriptions of each post are given below. The result awaiting candidates can not apply for the CTIs Jobs.
You May Also Apply for Punjab Public service Commission Teaching Jobs Lahore 2020
CTI jobs 2020-2021 in Colleges of Punjab Detail:
Minimum Education: MA, MSc or Equivalent degree ( 2nd Position )
Duration: 06 Months
Gender: Male and Female
Monthly Salary: 45,000 PKR.
Place of Posting or Address of job: Nearest Colleges of Boys or Girls.
Deadline:  Will be Announced Soon
Display Merit List: Will be Announced Soon
Final Merit List: Will be Announced Soon
Join Our Community
FACEBOOK GROUP
WHATSAPP GROUP 1
WHATSAPP GROUP 2
WHATSAPP GROUP 3
WHATSAPP GROUP 4
WHATSAPP GROUP 5
FACEBOOK PAGE
YOUTUBE CHANNEL
You May Also Apply for Join Pak Army as Lady Cadet Course 2020
CTI Jobs 2021 in Colleges of Punjab Subjects:
English
Urdu
Physics
Chemistry
Biology (Botany/Zoology)
Mathematics
Computer Science
Pak studies
Islamiat
Others Subjects can also apply.
Note: Only these Subjects will be given in Policy But appointment will be in other subjects too.
You May Also Apply for Turkiye Burslari Scholarships 2020-2021 for BS, MS, and PhD (Fully Funded) For International Students
Qualifications Required:
The minimum qualification Master Degree at least 2nd Division in the relevant subject and there is no age limit required for CTIs Jobs.
Qualification For BS Colleges: MS/M.Phil/Ph.D
Qualification Marks Distributions Criteria of CTI jobs:
Education Qualification: 85 marks.
Marks for an above master degree like MS or M.Phil., Ph.D.: 5 marks.
Position holders in board and university: 5 marks.
For Interview: 5 Marks.
The position of university and Board will be considered in your selection merit.
First position = 5 marks
Second position = 3 marks
Third 3rd position = 2 marks.
For GPA Conversion into %, HEC formula will use for GPA converting into Percentage.'
You May Also Apply for Join Pakistan Army as Captain 2020 through Direct Short Service Commission DSSC
Deadline:
The Walk-In-Interview to apply for CTI Jobs 2021 College Teaching Interns | Stipend 45000 Monthly is 13 January 2020.
Documents:
Update CV
ID card Copy/Original
2 Passport Size Photo
Original and photocopy of all Educational Diplomas.
Any Experience or certificate (If you have so it's Plus Point).
How to Apply Online For CTI Jobs 2021:
Candidates visit your nearest boys or girls Colleges you can get all Info from the college Notice Board from 08 January 2020 visit as soon as possible.
You have to apply to related Colleges and also you can apply for more than one College.
The interview will be held on 13 January 2020 or as per the application deadline so you have to manage your whole plan.
Submit your Detailed CV with Complete Documents on the given date.
Application with one passport size pic, CNIC copy, attested documents with CV when you have to visit in college.
You must bring your original documents and your CV at the time of Interview.
All Interviews will be held in related Colleges where you apply.
Candidates with advanced education qualifications and experience will be preferred.
Complete Detail and How to Apply for CTI Jobs Must Watch Following Video
Merit List: will be available on HED website and in colleges Notice Boards or you just visit the relevant office of the college or college, Facebook Page, for vacant posts.
For the selection, the degree which is important for merit is 16 years Master degree MSc or BS Hons. The maximum marks required for selection are 55/100. Good Luck and Best Wishes. Comments your qualifications. For more detail go to the college and see notice board where the lists of seats & details available.
Please watch the following videos for Complete Guidelines of CTI Jobs Interview Preparation & for All-District College Lists of CTI Jobs 2020
Videos links given below:
Sample Application form for CTI jobs 2019-2020 Candidates are required to Fill data relevant to their self and make necessary changes in CTIs jobs application form.
Study Hunt also providing the Preparation Material and helping books are available on our Facebook page or group so like our Facebook page and join our official Facebook group to best prepare to yourself for the written test and other Jobs in Pakistan tests like PPSC, FPSC. KPPSC, SPSC, BPSC, NTS, Pakistan Army, Navy, Air Force, etc. Join Our Facebook group below for collaborative preparation.
CTI Jobs Information Desk Whatsapp Group: https://chat.whatsapp.com/Js7I4ILH2SCIFrujmzZp2y
Join Our Facebook Group https://www.facebook.com/groups/studyhunt.info/
For More Detail Keep Visit Daily www.studyhunt.Info or next time you can search on Google type studyhunt.info – Keep Share this Post in all your Facebook and WhatsApp groups for others Help. For Any Query & Problem in Applying Online Feel Free to Contact Admin of StudyHunt.Info Here
Official Advertisement of CTI Jobs 2020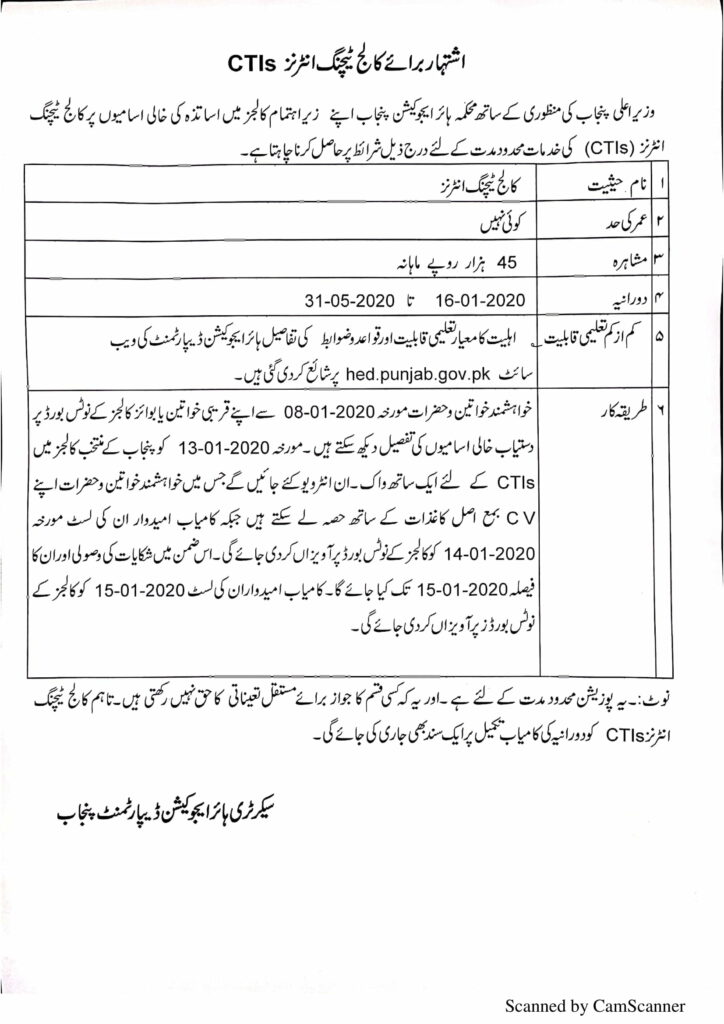 Search Tags: College Teaching Interns (CTIs) Jobs, CTI Jobs, cti jobs 2020 advertisement, cti jobs 2020 last date, cti jobs 2020, CTI jobs 202020 in Colleges of Punjab, CTI jobs 2020-2021 in Colleges of Punjab – 4500 Vacancies for Male & Female, cti jobs criteria, cti jobs in 2020, cti jobs in Lahore 2020, hed.punjab.gov.pk cti jobs.
If you are searching for a job, then also read the following articles.