Applications are invited for the Join Pak Army as Lady Cadet Course 2020 – Online Registration. There are the following posts or positions offered by Jobs in Pakistan. Pakistan Army is looking for motivated and talented females from all over Pakistan to join its prestigious institution as Captain through Lady Cadet Course (LCC-16) 2020.
You May Also, Check the Following Guidelines:
The eligible candidates with the required qualifications can apply for the Join Pak Army as Lady Cadet Course 2020 – Online Registration. The details and descriptions of each post are given below.
Lady Cadet Course 2020 Detail:
Education: Master/Bachelor, BE/BS or Equivalent
Gender: Females
Age limit: 28 Years old
Place of Posting: In the respective Zone
Deadline: 03 January 2019
You May Also Apply for: National Bank of Pakistan Jobs 2019
Lady Cadet Course 2020 Vacancies:
=== Lady Cadet Course (LCC) ===
— Corps of Engineers —
BE / MS in GIS&RS / Geo Informatics Engineering / Architecture / Agriculture Engineering
— Corps of Signals —
BE Electrical / Telecom
— Army Services Corps —
MBA Supply Chain Management
— Corps of Electrical & Mechanical Engineers —
BE – Electrical / Electronics / Mechanical Engineering
— Remount Veterinary and Farms Corps —
Doctor of Veterinary Medicine (DVM)
— Information & Computer Technology Officers —
BS / BE – Software Engineering / Cyber Security / Geo-Informatics / Geo Matics
You May Also Apply for: CTI Jobs 2020 College Teaching Interns | Stipend 45000 Monthly
Eligibility Criteria:
Minimum 2.5 CGPA out of 4 or min 60% marks in annual system.
M.Phil/MS will be given preference.
No 3rd division or grade D and only one 2nd division/ grade c throughout academic career.
Candidates only graduated from HEC/PEC recognized universities.
Candidates acquired qualification as private is no eligible.
Must be Female.
Unmarried.
Must be a Pakistani national and domicile holders of Azad Kashmir/ Gilgit Baltistan. Candidates with dual nationalities must surrender other than Pakistani nationality.
Physical Standards:
Minimum Height: 5′ (152.4 cm)
Weight: As per body mass index
Vision: As per PAO/ 11/82
Age: 28 years old as of 1st May 2020
You May Also Apply for: Counter Terrorism Department CTD Lahore Jobs 2019
Deadline:
The last date to apply for Join Pak Army as Lady Cadet Course 2020 – Online Registration is 03 January 2020.
Please visit the link given below to apply for Join Pak Army as Lady Cadet Course 2020. It is in the interest of the applicants to study in detail and thoroughly observe the guidelines given on the official website before and while applying.
Candidates can either register online or by visiting Army Selection and Recruitment Centers. List of centers mentioned in the ad below.
Registration Period 09 December 2019 to 03 January 2020
Preliminary Tests: 13-24 January 2020
Must watch the video for the Test Preparations Material (Click Here for video Link)
Study Hunt also providing the Preparation Material and helping books are available on our Facebook page or group so like our Facebook page and join our official Facebook group to best prepare to yourself for the written test and other Jobs in Pakistan tests like PPSC, FPSC. KPPSC, SPSC, BPSC, NTS, Pakistan Army, Navy, Air Force, etc. Join Our Facebook group below for collaborative preparation.
Join Our Facebook Group: https://www.facebook.com/groups/studyhunt.info/
For More Detail Keep Visit Daily www.studyhunt.Info or next time you can search on Google type studyhunt.info – Keep Share this Post in all your Facebook and WhatsApp groups for others Help.
For Any Query & Problem in Applying Online Feel Free to Contact Admin of StudyHunt.Info Here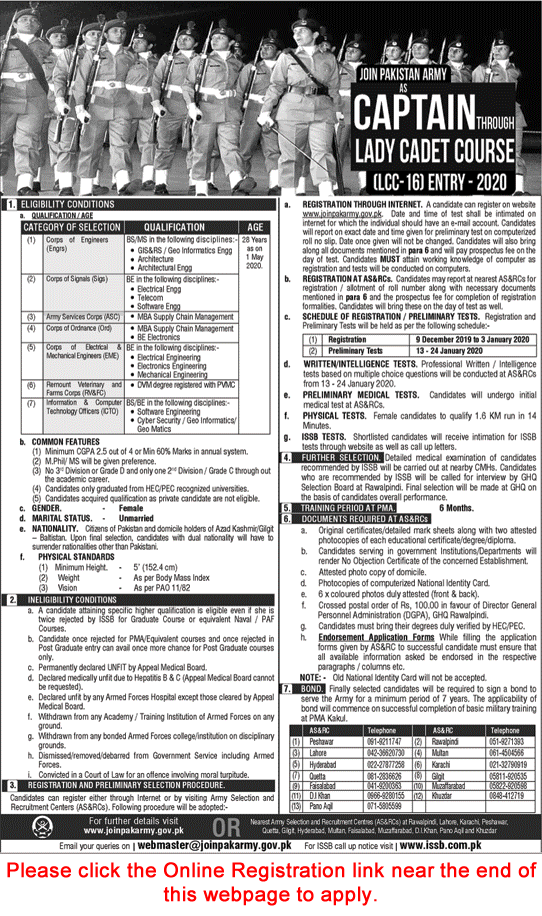 Search Tags: army lady cadet course test pattern, army lady cadet course test preparation, female captain jobs in pakistan army, join pak army, join pak army after graduation, join pak army as a captain, Join Pak Army as Lady Cadet Course 2020 – Online Registration, join pak army as soldier 2020, join pak army online registration 2020, Join Pakistan Army as Captain Through – Lady Cadet Course 2020, lady cadet course 2020 online registration, lady cadet course 2020 online registration form, lady cadet course 2020 requirements, lady cadet course after intermediate, lady cadet course air force, lady cadet course initial test, lady cadet course initial test pattern, lady cadet course initial test preparation, lady cadet course sample paper, lady cadet course test, lady cadet course test 2020, lady cadet course test pattern, lady cadet course test pattern 2020, lady cadet course test sample, pak army lady cadet course 2020, what is lady cadet course