Pakistan Army is looking for motivated and talented females from all over Pakistan to join its prestigious institution as Captain through Lady Cadet Course (LCC-15) 2019.
Following are the departments females from all over Pakistan can join through online registrations;
Corps of Engineers (Engrs)
Corps of Signals (Sigs)
Army Services Corps (ASC)
Corps of Electrical and Mechanical Engineers (EME)
Army Education Corps (AEC)
Direct Short Service Commission as Public Relation Officer (PRO)
Direct Short Service Commission as Psychologist
Requirement for Qualification:
Minimum 2.5 CGPA out of 4 or min 60% marks in annual system.
M.Phil/MS will be give preference.
No 3rd division or grade D and only one 2nd division/ grade c through out academic career.
Candidates only graduated from HEC/PEC recognized universities.
Candidates acquired qualification as private is no eligible.
Must be Female.
Unmarried
Must be a Pakistani national and domicile holders of Azad Kashmir/ Gilgit Baltistan. Candidates with dual nationalities must surrender other than Pakistani nationality.
Physical Standards:
Minimum Height: 5′ (152.4 cm)
Weight: As per body mass index
Vision: As per PAO/ 11/82
Age: 28 years old as of 1st November 2019
How to Register:(Video Attached)
Candidates can either register online or by visiting Army Selection and Recruitment Centers. List of centers mentioned in the ad below.
Registration Period 27th May to 12 June 2019
Preliminary Tests: 17-28 June 2019
Must watch the video for the Test Preparations Material (Click Here for video Link)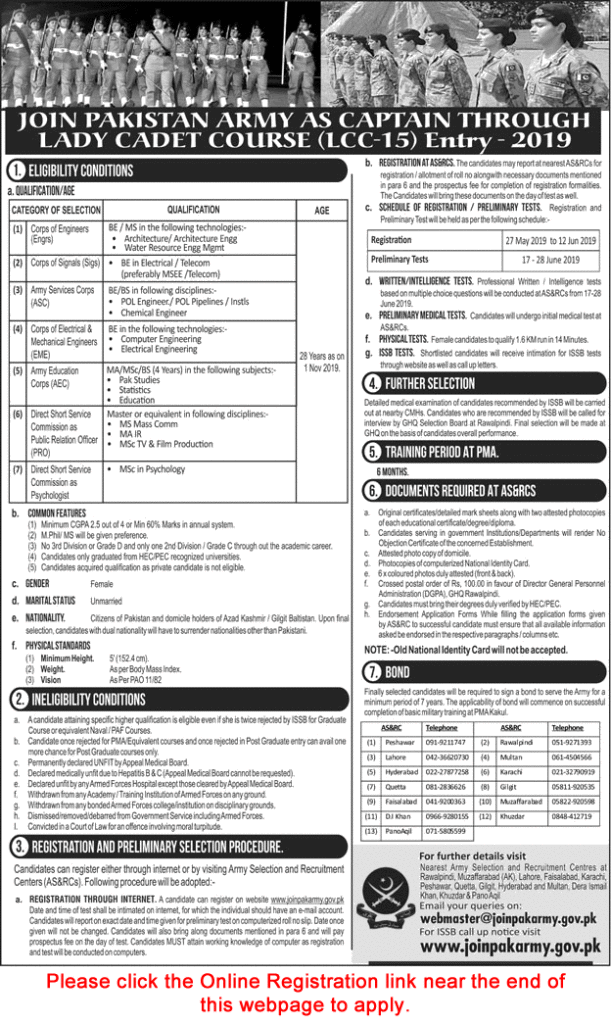 Search Tags: army lady cadet course test pattern, army lady cadet course test preparation, female captain jobs in pakistan army, join pak army, join pak army after graduation, join pak army as a captain, Join Pak Army as Lady Cadet Course 2020 – Online Registration, join pak army as soldier 2020, join pak army online registration 2020, Join Pakistan Army as Captain Through – Lady Cadet Course 2020, lady cadet course 2020 online registration, lady cadet course 2020 online registration form, lady cadet course 2020 requirements, lady cadet course after intermediate, lady cadet course air force, lady cadet course initial test, lady cadet course initial test pattern, lady cadet course initial test preparation, lady cadet course sample paper, lady cadet course test, lady cadet course test 2020, lady cadet course test pattern, lady cadet course test pattern 2020, lady cadet course test sample, pak army lady cadet course 2020, what is lady cadet course