HEC Stipendium Hungaricum Scholarship 2021
The The Higher Education Commission (HEC) invites applications from Pakistani/AJ&K nationals for the HEC Stipendium Hungaricum Scholarship 2021, launched by the Hungarian Government for Bachelor's, One-Tier Master's, Master's and PhD studies.
The Stipendium Hungaricum scholarship program was established by the Hungarian Government to promote the internationalization of the Hungarian higher education and to attract top foreign students from all around the world who can establish personal and professional attachments to Hungary while enjoying high quality education in the heart of Europe. You can choose from an ever-growing number of programmes taught in English, covering all higher education fields at all degrees offered by the most renowned Hungarian universities. As a Stipendium Hungaricum scholarship holder you will be able to focus on your academic advancement, as all your tuition fees will be covered, and your travelling and accommodation costs will be supported as well. IELTS is not Compulsory
Stipendium Hungaricum Scholarship Detail:
Degree: Bachelor, Master's, Doctoral, Non-Degree
Opportunity Type: Fully Funded
Host Country: Hungary – Study in Hungary
Last Date: 15 January 2021
Eligible Region: Pakistani (other Countries also eligible check official Website).
The HEC Stipendium Hungaricum Scholarship 2021 are just like the Chinese Government Scholarships 2021, Fulbright Scholarship in USA, South Korea Government Scholarships Program (Global Korea Scholarship), Turkiye Burslari Scholarships 2021, Australian Awards, Swedish Institute Scholarships in Sweden or MEXT JAPAN SCHOLARSHIP. It covers all of your expenses and applicants don't need to pay for anything.
Stipendium Hungaricum Scholarship Types:
Stipendium Hungaricum scholarships are available for Pakistani students fulfilling basic eligibility criteria in specified disciplines and other requirements of Hungarian universities under following programs:
Bachelor's Degree (after 12 years education)
One-Tier Master's Degree (after 12 years education)
Master's Degree (after 16 years education)
PhD Degree (after 17/18 years education)
Scholarship Duration:
Bachelor's Scholarships: 2-4 Years
Master's Scholarships: 1.5-2 Years
One-tier master: 5-6 Years
Doctoral Scholarships: 4 Years
Non-degree Programs: 1 Year
Stipendium Hungaricum Scholarship Programs and Host Institution:
Applicants are advised to apply only against specific degree programs and in specified study fields/major subjects defined by HEC. Click here to Download Specified Disciplines List and To check host institutions Click Here
Benefits & Financial Coverage:'
Tuition-free education: exemption from the payment of tuition fee
Monthly stipend:

Bachelor's and Master's Scholarships: monthly HUF 43,700/- contribution to the living expenses, for 12 months a year, until the completion of studies.                                        
Note: In the first year of their studies, non-doctoral students are required to attend the course of "Hungarian as foreign language" offered by the host university, and to pass an exam at the end of the second semester (except scholarship holders studying in Hungarian language). Scholarship holders who do not attend the course will not be able to receive the monthly stipend. The monthly stipend for students who take the course but fail to pass the exam will be reduced to 30,000 HUF/month.
Doctoral level: according to the current Hungarian legislation, monthly HUF 140,000/- for the first phase of education (4 semesters) and HUF 180,000/- for the second phase (4 semesters) – for 12 months a year, until completion of studies.

Accommodation: Dormitory place or a contribution of HUF 40,000/month to accommodation costs for the whole duration of the scholarship period.
Medical insurance: Health care services according to the relevant Hungarian legislation (Act No. 80 of 1997, national health insurance card) and supplementary medical insurance. 
Please do check cost of living calculator below: http://www.studyinhungary.hu/living-in-hungary/menu/your-costs-of-living.html
Join Our Community
WHATSAPP GROUP 1
WHATSAPP GROUP 2
WHATSAPP GROUP 3
WHATSAPP GROUP 4
WHATSAPP GROUP 5
Eligibility Criteria:
Applicant must be a citizen of Pakistan/AJ&K.
Must be between the age of 18-22 years for Undergraduate programs, for which they are applying for admission and the age limit should not exceed from 35 years for postgraduate Master's (18 years) and PhD programs on January 15, 2021. In case of PhD programs, for full time employees of public sector Universities, Colleges and R&D organizations the maximum age shall be extended up to 40 years (on last day of deadline) subject to provision of No Objection Certificate (NOC).
Applicant must have completed HSSC/Intermediate or equivalent for application in Bachelor's (Undergraduate Program) and One-Tier Master's degree.
Applicant must have completed 16 years Bachelors/or equivalent Degree for application in Master's (Postgraduate Program).
The applicant must have completed 18 years Degree/or equivalent for application in PhD Program.
The applicant must fill all the fields of the Hungary application form and HEC application form and no column or field should be left unfilled.
Certificates/Transcript/Degrees to be attached must be attested by the attesting authorities such as IBCC and HEC. Equivalence of O & A level from IBCC is mandatory.
It is the sole responsibility of student(s) applying for any professional degree (Medical, Engineering, Nursing, Architecture, Law, Veterinary Medicine etc.) to first get confirmed its accreditation from the respective Councils i.e. Pakistan Medical Commission (PMC), Pakistan Engineering Council (PEC), Pakistan Nursing Council (PNC), Pakistan Council for Architects and Town Planners (PCATP), Pakistan Bar Council (PBC), Pakistan Veterinary Medical Council (PVMC) etc.
IELTS/TOEFL scores as required, where applicable.
All applicants must submit medical certificate of satisfactory health condition (issued not earlier than 15 November 2020, a written certificate from a physician to prove that the applicant does not have the following illnesses: AIDS, Hepatitis A, B, C or any other epidemic conditions)
In case of final selection, applicants will have to submit a bond on legal paper to HEC that he/she will not change discipline after final award of scholarship, and immediately after completion of his/her degree, he/she will return back to Pakistan to serve the country for a period as prescribed by the HEC. In case of failure to do so, HEC reserves the right to recover from candidate or his/her guarantor, a penalty amount as prescribed/decided by the HEC.
Applicants must fulfill all other requirements set by host Hungarian university/Tempus Public Foundation/Higher Education Commission of Pakistan.
In case of final selection, candidate has to submit a bond agreement.
Required Documents:
Online Application Form
Motivation Letter
Proof of language proficiency and their translations in the language of the selected study program or in Hungarian.
School certificates and their translations in the language of the selected study program or in Hungarian
Transcript of Records and its translation in the language of the selected study program or in Hungarian
Medical certificate
Copy of passport
Acceptance of Statement for Application in Tempus Public Foundation Hungary online system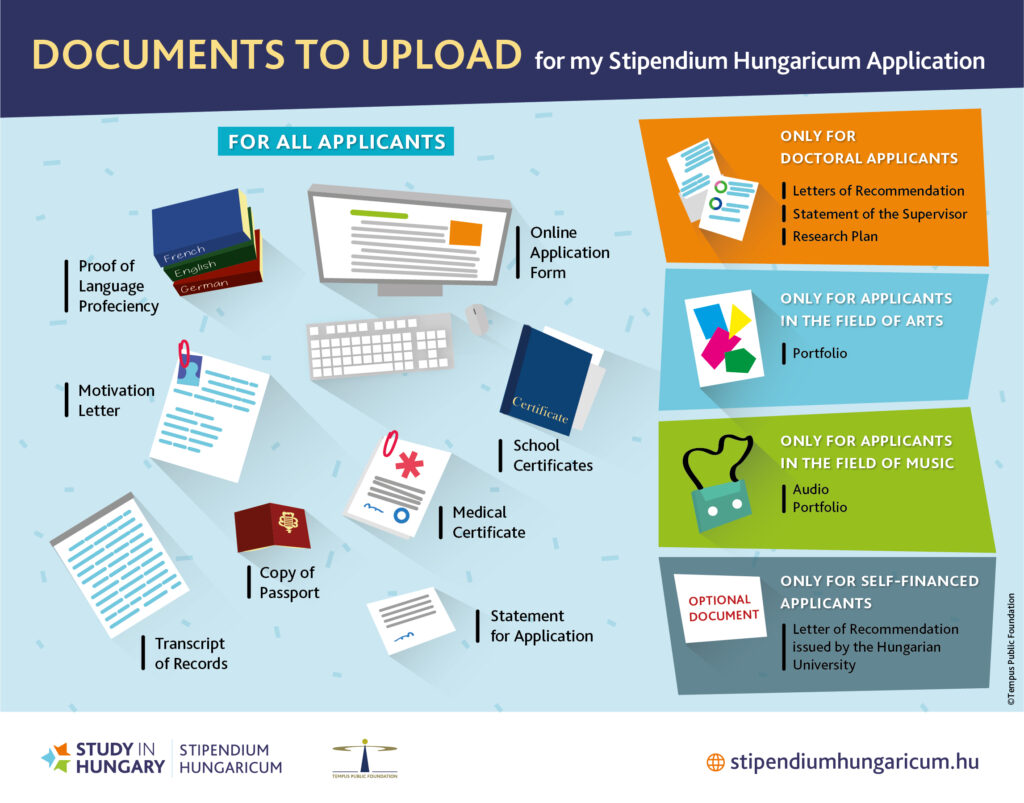 Note: All documents that cannot be obtained in the language of the selected study program or in Hungarian have to be translated and the translations have to be submitted as well as the copy of the original document.
Deadline:
The last date to apply for HEC Stipendium Hungaricum Scholarship 2021 is January 15, 2021.
How to Apply:
Please visit the link given below to apply for HEC Stipendium Hungaricum Scholarship. It is in the interest of the applicants to study in detail and thoroughly observe the guidelines given on the official website before and while applying.
Stay Connected with Studyhunt.info |Student Guide | Educational Updates | Admissions | Results | Schedules | Deadlines | News Alerts | Breaking News | Jobs & Internships | Scholarships | Free Online Courses | Online Earning (Methods) | Please do like and follow our Social Media Pages.
FACEBOOK PAGE | WHATSAPP GROUP | FACEBOOK GROUP | YOUTUBE CHANNEL
Keep Visit Daily studyhunt.Info or next time you can search on Google type studyhunt.info.
For Any Query & Problem in while Applying Feel Free to Contact Admin of StudyHunt.Info Here