The Higher Education Commission (HEC) of Pakistan is inviting applicants to conduct the HEC Law Admission Test (LAT) 2022 for Five-year LLB Program. This is for applicants desirous to get admission in five-year undergraduate LLB Degree Program in HEC/PBC recognized public and private sector universities/institutions and valid colleges affiliated with public sector universities in compliance with the directions of the Honorable Supreme Court vide its Order dated March 6, 2018, and Judgement dated August 31, 2018, passed in C.P, 134/2012.
Student have passed Higher Secondary School Certificate (HSSC) or equal to grade 12 education or students who appeared in final examination and awaiting result can apply for HEC LAT Test for 2022. There will be marks 100 test and passing marks are 50. LAT test pattern and syllabus is given below so prepare the test according to that
You May Also Apply for Ehsaas Undergraduate Scholarship Phase-3
Who Can Apply for Law Admission Test?
Students who have passed the Higher Secondary School Certificate (HSSC) or equivalent/Grade-12 education.
Students who have appeared in the final examination of HSSC or equivalent/Grade-12 education and are awaiting results.
Join Our Community:
FACEBOOK GROUP
WHATSAPP GROUP 1
WHATSAPP GROUP 2
WHATSAPP GROUP 3
FACEBOOK PAGE
YOUTUBE CHANNEL
Deadline:
The last date to apply for latest HEC Law Admission Test (LAT) is 17 January 2022.
You May Also Apply for FFC Scholarship 2021 | Scholarship Form
How to Register:
For HEC LAT Registration follow the guidelines below,
Please visit the following link: https://etc.hec.gov.pk/ for online registration.
In case of any difficulty during the online registration, please visit https://onlinehelp.hec.gov.pk/ or visit HEC Secretariat or contact HEC Regional Centres for guidance.
Only online SUBMITTED applications will be considered for Law Admission Test.
Test Fee of Rs. 1,000/- is to be deposited online/ATM in Account No. 1742 7900 133401, Account Title: Higher Education Commission, Bank: Habib Bank Limited, Branch Code: 1742. Bank Draft/Pay Order will not be accepted.
Applicants are required to send a copy of Fee Deposit Slip/ATM/Online transfer through courier at the address: Members House, HEC, Sector H-8, Islamabad on or before the last date of registration with CNIC number at the backside of the Deposit Slip.
The Test Fee non-refundable and non-transferable.
Scholarships announced for HEC China Government Scholarship 2022 for Pakistani Students
LAT Test Date:
The test will be held on January 30, 2022, tentatively. Any change in the test date will be communicated through www.hec.gov.pk and http://etc. hec.gov.pk.
Applicants who register through HEC online registration process will be able to download their Roll Number Slip from http://etc.hec.gov.pk and the same shall also be sent to their registered email address, a week before the test date.
Email/SMS will also be sent to registered applicants for the test date, time, and venue. While filling online application forms, candidates are required to provide a valid email/mobile number on which they wish to receive Roll Number Slips.
A print of Roll Number Slip and Original CNIC will be required to enter the Test Centre on the test day.
Details of Examination Centre:
The test will be conducted in major cities. Applicants may select any Test/Examination Centre from the list available in the application form. Please note that the Examination Centre will not be changed after registration.
Test Pattern and Syllabus
| | | |
| --- | --- | --- |
| Division of Questions | Marks | Nature of Questions |
| Essay (In English or Urdu) | 15 | 200 words maximum |
| Personal Statement (In English or Urdu) | 10 | 200 words maximum |
| MCQs: English | 20 | Synonyms/Anonyms/Preposition |
| MCQs: General Knowledge | 20 | |
| MCQs: Islamic Studies | 10 | |
| MCQs: Pakistan Studies | 10 | |
| MCQs: Urdu | 10 | Vocabulary |
| MCQs: Math | 05 | Basic Math |
| Total Marks | 100 | |
| Passing Marks | 50 | |
hec Law Admission Test pattern and syllabus
Official Advertisement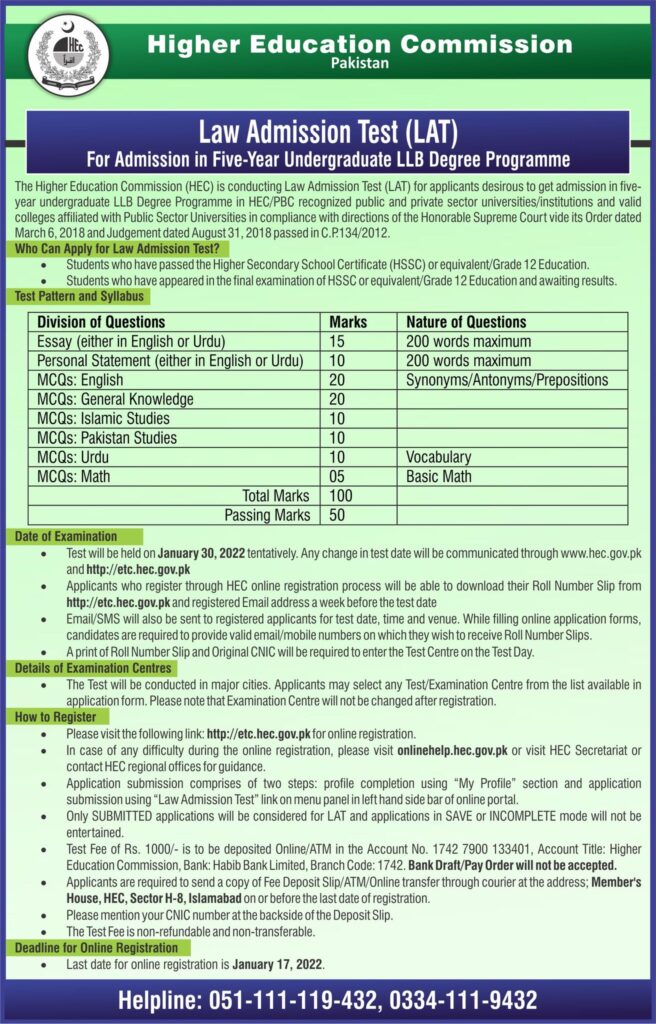 Law Admission Test Past Papers, Essays, Statement
To prepare for HEC LAT test syllabus, past papers, essays, English and personal statement visit the link below to access google drive folder
https://drive.google.com/drive/folders/16x4UTrUdEMdwkZb97cIGF0U80HPrsL-5?fbclid=IwAR2CsypBTe7P8OlAEXocWUqyT-UxNZSdztSChukM8yJxkRH7OeD7f4GYjN8
For Dogar Unique Book for LAT, Nseries Book for LAT, Dogar's Test Masters book and many other resources visit the link below,
https://drive.google.com/drive/folders/1-3SWLSl-w1VEzuHySVI2xarZZcotUK4o?fbclid=IwAR1556VA4swt0IYCzZ28qY6OFXXna-YL0xospgIQoNtn7padw8KhJS0ZxHM
Be a part of our community & let us help you succeed. Please do like and follow our Social Media Pages.
Keep Visit Daily studyhunt.Info or next time you can search on Google type studyhunt.info.
For Any Query & Problem in while Applying Feel Free to Contact Admin of StudyHunt.Info Here