There are shortage of teacher in the government colleges through out Punjab and to overcome it, the Govt of Punjab hire temporary teachers so that there is no classroom in any govt college without relevant teach and today the wait is over and the Higher Education Department of The Government of Punjab has announced the hiring of College Teaching Internees as now you can apply for the latest CTI Jobs 2021-2022 in the colleges through out Punjab. Thousands of openings announced the HED Punjab in fact more than HED Punjab is looking for 3000+ internees. And eligible candidates who has a passion to work as a Teacher must apply for this excellent internship opportunity.
Male and Females from all over Punjab, Pakistan can apply for College Teacher Internees in Government Colleges in Punjab. Monthly stipend of 45,000 Pkr. will be given to the internees. As mentioned above this is an internship and the selected Teacher internees duration to teach in the colleges for 5 months. Some requirements need to be meet for the applicants to be eligible for this internship, minimum education required is MA/MSc with at least 2nd division, those who have more education will be given extra marks.
There is no age limit to apply for College Teaching internship and their is no application fee to submit application. All you have to do is to go to your nearest colleges where required vacancies along with details will be shown on the notice board if you are qualified for any position and apply for it by simply submitting an application form along with the required documents. After the completion internees will be given a certificate.
College Teacher Internees(CTI) Jobs Details
| | |
| --- | --- |
| Organization | Higher Education Department of The Government of Punjab |
| Education Required | MA/Msc with additional marks for Mphil/PhD and position holders |
| Eligibility | From All Over Punjab |
| No of Vacancies | 3000+ |
| Monthly Stipend | 45,000 |
| Gender | Male n Female |
| Locations | Your nearest Govt Colleges in Punjab |
| Date to Apply | 24 to 27 November 2021 |
College Teacher Internees(CTI) Jobs 2021-2022 Details
Criteria and Requirements
These internships are for Punjab, Pakistan domicile holder
No TA/DA will be given
Both males and females can apply
Minimum education required is MA/Msc with at least 2nd division
There is no age limit
Duration of College Teacher Internees is 5 months.
Candidates can only apply for there nearest colleges
CTI jobs 2021 in Colleges Subjects:
English
Urdu
Physics
Chemistry
Biology (Botany/Zoology)
Mathematics
Computer Science
Pak studies
Islamiat
Others Subjects can also apply depending upon the requirements
Qualification Marks Criteria
Marks are awarded as follows,
Education Qualification: 85 marks.
Marks for an above master degree like MS or M.Phil: 5 marks.
Position holders in board and university: 5 marks.
For Interview: 5 Marks.
Position of university and Board will be considered in your selection merit.
First position = 5 marks
Second position = 3 marks
Third 3rd position = 2 marks.
For complete Marks Criteria for General and Community Colleges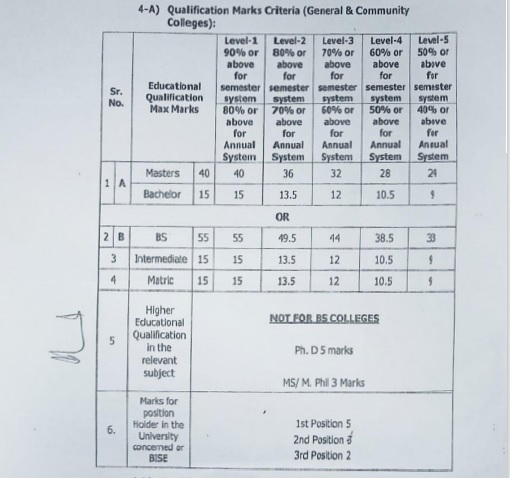 For complete Marks Criteria for BS Colleges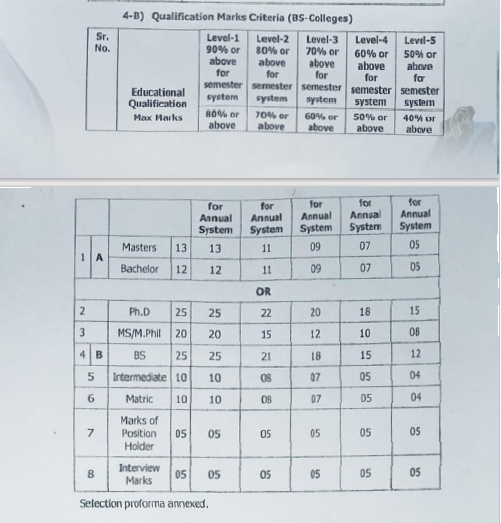 Required Documents
Application Form
Update CV
ID card Copy/Original
2 Passport Size Photo
Original and photocopy of all Educational Diplomas.
Any Experience or certificate (If you have so it's Plus Point).
CTI Application Form
You can write print simple application on a piece of paper submit your application along with all the required documents.
Punjab Colleges List for CTI Jobs
Lists of All Punjab District Colleges CTI Jobs Updated
Procedure for How to Apply Online For CTI jobs
Visit your nearest boys or girls Colleges you can get all Info about vacancies from the college Notice Board from 22-11-2021 visit as soon as possible.
You have to apply to related Colleges and also you can apply for more than one College.
Candidates can submit there application along with all the required documents from 24-11-2021 to 27-11-2021.
Merit list will be attached at the college notice board at 29-11-2021 10:00 am.
From 30-11-2021 to 12-01-2022 complaints regarding intial CTI merit list can be submitted to the Deputy Directorate Colleges, Punjab Lahore.
Final merit list will be posted on relevant College Notice Board dated 03-12-2021 at 10:00 am
The interview will be held in 04-12-2021 to 06-12-2021or as per the application deadline so you have to manage your whole plan.
Successful candidates list will be displayed at College Notice Board at 10:00 am 07-12-2021
Complaints regarding successful candidates can be submitted from 08-12-2021 to 11-12-2021 to Deputy Directorate Colleges, Punjab Lahore.
Fina Merit List
Final merit list will be displayed at the College's Notice Board at 11:00 am 14-12-2021.
Application Guidelines
Submit your Detailed CV with Complete Documents on the given date.
Application with one passport size pic, CNIC copy, attested documents with CV when you have to visit in college.
You must bring your original documents and your CV at the time of the Interview.
All Interviews will be held in related Colleges where you apply.
Candidates with advanced education qualifications and experience will be preferred.
CTI Jobs 2021-2022 advertisement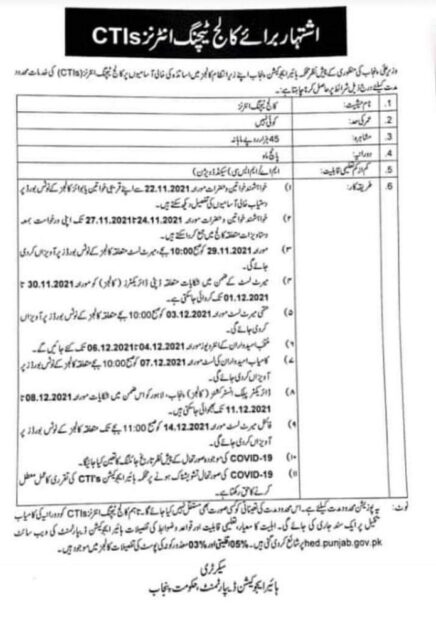 Interview Questions for CTI Jobs
Following questions may be asked by CTI Selection Committee,
Question 1. Introduce Yourself
Question 2. Tell us about your Family and Qualification
Question 3. Why do You need this job?
Question 4. What are the qualities of a good teacher?
Question 5. How will you manage to get good results?