Students with a high aptitude of mind and with an excellent learning attitude always wanted to vast or enhance their learning skills for this they are always looking for a suitable and highly modified and updated learning environment and we all know Europe is leading all the ways in this regard around the world. But studying in Europe is quite expensive to remove all the hindrances there is the golden opportunity for the students which is up to the mark for the students seeking European scholarships, applications are invited for the Erasmus Mundus Scholarships 2023. This scholarship is fully funded. Erasmus and Mundus are giving international students a great chance to study in any of the European countries and also students can study in any of the European universities.
Applications are open now and Erasmus and Mundus Catalogue is updated for the upcoming year 2023. These scholarships are for Masters and Doctorate Programs. Candidates can study in 3 to 4 different countries of Europe not only study but during their study tenure, they will get the opportunity to do some practical work in the form of internships. After completing scholarship program successful candidates can settle and work in Europe afterwards.
No GRE or GMAT is required to apply for Erasmus Mundus. IELTS test is required and a minimum of 6.5 band is required and students can apply submit Duolingo English Proficiency test result its easier as students can take Duolingo test from home. Their is no age restriction to apply for this scholarship. Minimum cgpa is 2.5 so if you low grades and could not apply for any other scholarship, Erasmus Mundus gives you the opportunity to show your talent.
Erasmus Mundus Scholarship Details
| | |
| --- | --- |
| Organization | European Commission |
| Region | Europe |
| Education Level | Master, and Ph.D. |
| Financial Coverage | Fully Funded |
| Eligibility | All over the World |
| Gender | Male/Female |
| Coverage | 1100 to 1500 Euros per Month |
| Last Date to Apply | Different for Programme |
Erasmus Mundus Scholarship 2023
Join Our Community
FACEBOOK PAGE | FACEBOOK GROUP | WHATSAPP GROUP 1 | TWITTER | INSTAGRAM
Total Number of Scholarship Opportunities:
You will be amazed not few opportunities are given to international students but a total 2750+ scholarships in different countries, in different universities, and in different programs are available for international students.
Also apply for more scholarships in Europe Sweden Government Scholarship 2023 [Fully Funded]
Recently for this year Erasmus Mundus announced that 2756 scholarships awarded to students from 141 difference countries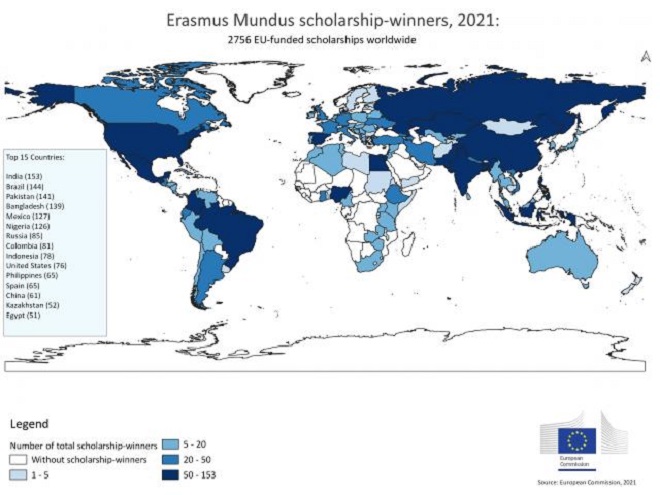 Duration of Scholarships:
Erasmus and Mundus scholarships are for the spam of two years for the international students. The Joint master's program is available for 1 and 2 years (60-120 ECTS) and the applicants will start getting scholarships funds from 12 to 24 months.
Deadline:
As Erasmus and Mundus Scholarships are for the different programs around Europe that's why there are variables in deadlines as different programs have different deadlines. The scholarships deadline will be in 31st March 2023.
When and Where to Study:
After successful selection, candidates can study in three of the European universities, there is a lot of benefits of it like at the end of his studies he will get a dual degree from two different institutes of Europe which can increase his market wealth. On top of that, he can study in top-ranked places like Europe, Australia, or the USA, which means he has a great opportunity to vast his learning skills by getting an education in different countries. He will study different semesters in different countries.
More Scholarships in Europe Rhodes Scholarship for international students at oxford university
Financial Benefits and Coverage:
Applicants will get the following benefits from the Erasmus scholarships.
The stipend of 1100-1500 Euros
Airfare for international students
Travel allowance between participating universities.
Tuition fee waiver
Working permanent visa will also be given to the students who completed their studies in their respective country.
Opportunity for you settle in europe after the completing your program
Erasmus Mundus Scholarship Requirements
Following are the eligibility criteria and minimum requirements to apply for the scholarship,
IELTS and TOEFL is necessary for these scholarships
Applicants who are truly desirous to get these scholarships are advised to apply for these scholarships for IELTS or TOEFL in September or October, if centers are close for the pandemics applicants are advised to ask their respective coordinators via email to exempt them from these English proficiency courses.
There are some other tests like Duolingo English proficiency. it is the alternative test for the IELTS and it is the best alternative in this pandemic because applicants can give this test from home.
No GRE or GMAT required
6.5 minimum bands required in IELTS
No professor's intake letters or intakes required just go to the official website( which is mentioned below) and submit your required details
16 years of education Is necessary for the applicants
No work experience is required
No age limitations are mentioned
Students with an average academic records can also apply for Erasmus and Mundus Scholarships
Two-letter of recommendations required and this letter varies from each course.
A certificate of residence for the assurance of the applicant's nonresidency in any European country from the last five years
Residency letter can be acquired from the university or workplace or local municipal office or from the public lawyers
Academic transcripts
Letter of motivation, the wording limit varies from each program.
Statement of proposal or research project proposal required for the eligibility
Italian Government Announced Italy Government Scholarships For International Students
Erasmus Mundus Programme Host Countries
Following are the Erasmus mundus host countries(EU and Non-EU) where students will be studying,
Austria
Belgium
Bulgaria
Croatia
Cyprus
Czech
Denmark
Estonia
Finland
France
Germany
Greece
Hungary
Iceland
Ireland
Italy
Latvia
Liechtenstein
Lithuania
Luxembourg
Macedonia
Malta
Netherlands
North
Norway
Poland
Portugal
Romania
Serbia
Slovakia
Slovenia
Spain
Sweden
Turkey
Also apply for these scholarships in Holland Maastricht University Scholarship 2023 in Holland Fully Funded
Tips and Tricks for the Selection:
It is worldly recognized scholarships and the numerous students are desirous to be selected in these scholarships so Erasmus interviews are kinds of strict and technical because they wanted to choose the cream of the international students that's why applicants have to prepare themselves for all sport of questioning
It is saying the first impression is the last impression so to get Erasmus scholarships applicants are advised to make their motivational letter quite inspirational and attractive so that the email team can make it separate for your further selection
Applicants are advised to make their profile strong by mentioning all the co-curricular activities
Documents Required
Following documents are required to apply for Erasmus Mundus 2022,
Complete Application for your desired programme
Valid passport which is not expired
Copies of required Transcripts and Degrees
IELTS test or Duolingo test result.
2 Letters of Recommendations
A Motivation Letter
Updated CV in Europass format (Link)
Certificate of Residence – A proof of your residence through a notarized letter that your are not living in Europe for at least last 5 years
Step by Step Application Procedure:
Applicants are advised to apply online via Erasmus's Mundus Catalogue
Select the year 2022 for the latest
Official link has all the programs and universities list in which an applicant can apply
The official website also mentioned the complete procedure of application so applicants are advised to apply online carefully
Applicants can select three programs of their choices
Check requirements and if you meet them then you can apply
Erasmus Mundus Catalogue
Catalogue for 2023 intake is being updated. Check for most relevant program to your education and see the countries and universities involved. Catalogue link is given below
Erasmus Mundus Eligible Countries
Following countries are eligible to apply for Erasmus Mundus Scholarship. Funding will be allocated to organizations in the countries within their territories as recognized by international law.
Afghanistan
Africa
African
Albania
Algeria
Andorra
Angola
Antigua
Arab
Arabia
Argentina
Armenia
Azerbaijan
Bahamas
Bahrain
Bangladesh
Barbados
Barbuda
Belarus
Belize
Benin
Bhutan
Bolivia
Bosnia
Botswana
Brazil
Burkina
Burundi
Cambodia
Cameroon
Cape
Central
Chad
China
City
Colombia
Comoros
Congo
Congo
Cook
Côte d Ivoire
Costa
Cuba
DPR Korea
Democratic
Democratic
Djibouti
Dominica
Dominican
Ecuador
Egypt
El
Emirates
Equatorial
Eritrea
Eswatini
Ethiopia
Faroe
Faso
Federated
Fiji
Gabon
Gambia
Georgia
Ghana
Grenada
Grenadines
Guatemala
Guinea
Guinea
Guinea
Guinea-Bissau
Guyana
Haiti
Herzegovina
Honduras
India
Indonesia
Iran
Iraq
Islands
Islands
Islands
Islands
Israel
Jamaica
Jordan
Kazakhstan
Kenya
Kingdom.
Kiribati
Kitts
Korea
Kosovo
Kuwait
Kyrgyzstan
Lanka
Laos
Lebanon
Leone
Lesotho
Leste
Liberia
Libya
Lucia
Madagascar
Malawi
Malaysia
Maldives
Mali
Marino
Marshall
Mauritania
Mauritius
Mexico
Micronesia-
Moldova
Monaco
Mongolia
Montenegro
Morocco
Mozambique
Myanmar
Namibia
Nauru
Nepal
Nevis
New
Nicaragua
Niger
Nigeria
Niue
Oman
Pakistan
Palau
Palestine
Panama
Papua
Paraguay
Peru
Philippines
Principe
Qatar
Republic
Republic
Republic
Republic
Republic
Rica
Russia
Rwanda
Saint
Saint
Saint
Salvador
Samoa
San
Sao
Saudi
Senegal
Seychelles
Sierra
Solomon
Somalia
South
South
Sri
State
States
Sudan
Sudan
Suriname
Switzerland
Syria
Tajikistan
Tanzania
Territory
Thailand
The
Timor
Tobago
Togo
Tome
Tonga
Trinidad
Tunisia
Turkmenistan
Tuvalu
Uganda
Ukraine
United
United
Uzbekistan
Vanuatu
Vatican
Venezuela
Verde
Vietnam
Vincent
Yemen
Zambia
Zimbabwe