One of the biggest scholarship opportunity is opened up now by South Korean Government. Call for applications for Global Korea Scholarship 2023-2024 For Graduates is open now. Students from wide range of countries can apply this fully funded scholarship opportunity. Under GKS, international students can study Masters, PhD and Research Programs at participating universities. Korean Government has increased foreign admissions to 200,000 this year. So, there will be so many scholarships available. If you have always dreamed of studying in South Korea, then must apply for Global Korea Scholarship. Through this scholarship, you will be getting the chance to study for free in world class universities. There are two tracks of application, Embassy Track and University Track, each track has its own application requirements which must be met to apply.
Moreover, applicants are required to pick one option from these options for application; General, overseas Korean adoptees, Korean language teaching professionals, or research programs. For the university track, applicants have to choose one of these; General, research programs, or science and engineering majors at a regional university. Students from all over the globe can apply for this scholarship. The scholarship provokes students to study in South Korea's best universities. GKS is the very famous scholarship program across the globe. The scholarship also makes the bond strong between South Korea and other countries. The objective of scholarship is also to promote Korean culture, brand value, and the Korean language. Students study Korean language to increase their chances of getting scholarship.
Korean Ministry of Education has formed this scholarship program. The scholarship was named as KGSP before stands for Korean Government Scholarship Program. The scholarship is granted to excellent deserving students to continue their higher studies. GKS is administered and regulated by National Institute for International Education (NIIED). They work in the place of Ministry of Education in Korea. Interested in Studying in Australia on Full scholarship then you must see Australian National University(ANU) Scholarships
Details:
| | |
| --- | --- |
| Region of Studies | South Korea |
| Organization | government of the Republic of Korea |
| Degree Level | Undergraduate / graduate / postgraduate |
| Type | Fully funded |
| Eligibility | International students |
GKS Graduate
Join Our Community
For daily Updates of jobs join our community and be a part of Studyhunt.info.
FACEBOOK PAGE | FACEBOOK GROUP | WHATSAPP GROUP 1 | TWITTER | INSTAGRAM
Eligibility Criteria:
The applicants and their parents should not be citizens of South Korea.
Individuals with dual citizenship (including one Korean) are also not eligible.
All applicants must hold citizenship from one of the invited nations selected by the NIIED. Yet, the parents can be nationals of countries that do not participate in the GKS graduate program.
There is an exceptional case with overseas Koreans with Japanese citizenship. If their parents have a "Permanent Residency Permit" in Japan and have Korean citizenship, they can apply.
They need to provide documents proving the renunciation of Korean citizenship for all applicants. This is also for their parents, who earlier held Korean citizenship.
Applicants must be under 40 years of age (born after September 1, 1982), if they are applying for GKS Postgraduate scholarship.
Academic professors that are under 45 years of age as of September 1, 2023, can also apply. They are required to be citizens of one of the 107 countries designated as official development assistance (ODA) recipients.
Eligible Countries
Afghanistan
Democratic People's Republic of Korea
Armenia
Albania
Angola
Zimbabwe
Bolivia
Algeria
Bangladesh
Cabo Verde
Antigua and Barbuda
Benin
Cameroon
Argentina
Bhutan
Congo
Azerbaijan
Burkina Faso
Côte d'Ivoire
Belarus
Burundi
Egypt
Belize
Cambodia
El Salvador
Bosnia and Herzegovina
Central African Republic Eswatini
Botswana
Chad
Georgia
Brazil
Comoros
Ghana
China (People's Republic of)
Democratic Republic of the Congo
Guatemala
Colombia
Djibouti
Honduras
Costa Rica
India
Cuba
Ethiopia
Indonesia
Dominica
Gambia
Jordan
Dominican Republic
Guinea
Kenya
Ecuador
Guinea-Bissau
Kosovo
Equatorial Guinea
Haiti
Kyrgyzstan
Fiji
Kiribati
Micronesia
Gabon
Laos
People's Democratic Republic Moldova
Grenada
Lesotho
Mongolia
Guyana
Liberia
Morocco
Iran
Madagascar Nicaragua
Iraq
Malawi
Nigeria
Jamaica
Mali
Pakistan
Kazakhstan
Mauritania
Papua New Guinea
Lebanon
Mozambique
Philippines
Libya
Myanmar
Sri Lanka
Malaysia
Nepal
Syrian Arab Republic
Maldives
Niger
Tajikistan
Marshall Islands
Rwanda Tokelau
Mauritius
Sao Tome and Principe
Tunisia
Mexico
Senegal
Ukraine
Montenegro
Sierra Leone
Uzbekistan
Montserrat
Solomon Islands
Viet Nam
Namibia
Somalia
West Bank and Gaza Strip
Nauru
South Sudan
North Sudan
North Macedonia
Tanzania
Palau
Timor-Leste
Panama
Togo
Paraguay
Tuvalu
Peru
Uganda
Saint Helena
Vanuatu
Saint Lucia
Yemen
Saint Vincent and the Grenadines
Zambia
Samoa
Serbia
South Africa
Suriname
Thailand
Tonga
Turkey
Turkmenistan
Venezuela
Wallis and Futuna
International students interested in studying in China can also apply for Jiangsu Government Scholarship
Requirements
The CGPA requirement is 2.64/4.0, 2.80/4.3, 2.91/4.5, or 3.23/5.0
The percentage must be 80% or above on scale of 100. If you are in the top 20% of your last class, the you're also eligible
For a Master's program, one must have bachelor's degree.
For a doctoral program, one should have a master's degree or education or equivalent or higher than a UG degree.
To be eligible for research program, candidate should e having invitation from any partner university.
Candidate should have a doctoral degree by February 28, 2023 for Postdoctoral Research Program
For Professor Exchange Program, candidate must be holding Master's degree or higher and must teach at a university as a professor.
Program for Education, Science, Culture, and International Cooperation Professionals. One needs a Master's degree or higher and must be a professional in the same (E.S.C.I.) Field.
Candidates must have a major in the Korean language and should choose the same while picking their major/field of study.
Students graduated from a Korean high school or university can't apply. Overseas Korean adoptees and former GKS Scholars are eligible well.
There is an exception for former GKS scholars lost scholarships because they failed to pass TOPIK level 3 or above. After completing the Korean course, they can reapply if they have passed TOPIK level 5.
Lastly, candidate needs to be in good mental and physical health.
Programs and Duration:
Korean Language Program(1 Year)
Master's (2 Years)
Doctoral (3 Years)
Research (6 months or 1 year)
Scholarship benefits:
Under GKS 2023-2024 students will receive following benefits,
Full Tuition Fee Coverage
Monthly Stipend
Settlement Allowance
Accommodation
Airfare
Research Support Fee
Korean Language Training
Medical Insurance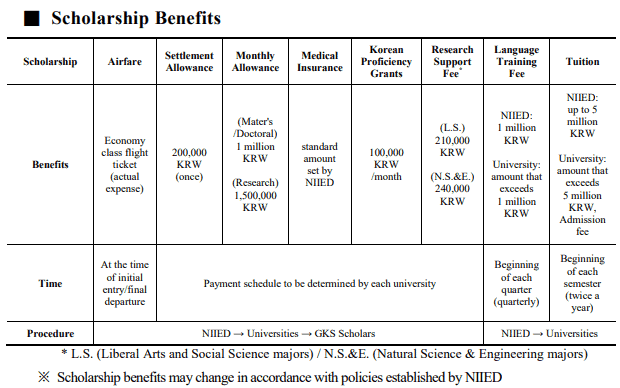 Required documents:
Following are the documents required to apply for the scholarship, For each round of the application process different documents are required, details are as follows,
Necessary Documents
Complete Application Form (Form 1)
Personal Statement (Form 2)
Two Letters of Recommendation (Form 5)
GKS Applicant Agreement (Form 7)
Personal Medical Assessment (Form 8)
Applicant's Proof of Citizenship Document (Original)
Applicant's Parent's Proof of Citizenship Document (Original)
Optional documents for (Masters, Ph.D., and Research Program)
Certificate of valid Korean test, only TOPIK score.
Certificate of valid English Ability exam (TOEIC, IELTS, TOEFL, etc.)
Published books & research papers, etc.
Awards and other certificates
Applicant's passport copy
Documents according to the programs and candidates
Statement of Purpose (Form 3) — For masters and doctoral programs.
Document for Bachelor's degree and its transcript — For masters and doctoral programs.
Document for Master's degree and its transcript — For doctoral and research program.
Documents for Overseas Korean, Korean Citizenship Renunciation, Korean Adoptee (Original and Optional). This only applies to relevant applicants.
Certificate of Employment (teaching subject) and certification of a teaching career (years taught). (Original and Optional). This is only for Korean teaching professionals for UG bachelor's and master's programs.
Documents only for research programs
Research Proposal (Form 4)
University's Official Letter of Invitation (Form 6)
Original documents for the doctoral degree and its transcript. This only applies to postdoctoral research programs.
Deadline:
Last date to apply for Global Korea Graduate Scholarship is different for each country.

How to Apply:
The application period is usually February-March for GKS graduate programs (Masters, Doctorate, and Research). But, GKS for undergraduates takes place in September.
Open the website https://www.studyinkorea.go.kr/ko/main.do of Korean Government and have access to application form.
You can apply in two ways 'the embassy track' and 'the university track.'
Choose the track depending upon your country.
You can also try both ways.
In embassy track, you first apply to the Korean embassy of your country and then there are three other rounds
In university track, you directly submit application to Korean University