Great news for the candidates who wanted to study at LUMS which is the top-ranked university of Pakistan. Applications are invited for the LUMS National Outreach Program scholarships for the academic year 2023-2024. Lahore University of Management sciences started this National Outreach Program to help financially the deserving students who wanted to continue their studies but due to financial difficulties, they did not manage to study further.
LUMS is intended to award scholarships to Undergraduates in almost all academic fields. The National Out Reach Program of Lahore University of Management Sciences gives this amazing opportunity to deserving students on merit. There are four stages of the LUMS National Outreach Program.
LUMS is one of the top-ranked universities of Pakistan and ranked this university at 111th in Asia and among the top 700 universities in the world. It was established in 1984 and 5,000 students are studying in this developed institute.
Details:
| | |
| --- | --- |
| Institute | Lahore University of Management Sciences |
| Country | Pakistan |
| Level of studies | Undergraduates |
| Courses | All fields |
| Coverage | Fully Funded |
LUMS NOP Details
You May also be interested in Agha Khan Foundation International Scholarships Application Form
Deadline:
The last date to apply for LUMS NOP scholarships is 29th March 2023.
Financial Benefits:
All expenses of the successful candidates will be covered under NOP LUMS Scholarship Program
Living Expenses
Tuition Waiver
Miscellaneous Expenses
Mushtaq Ahmad Gurmani School of Humanities & Social Sciences
English
History
Economics and Politics
Political Science
Anthropology and Sociology
Economics
Economics and Mathematics
Syed Babar Ali School of Science & Engineering
Biology
Chemistry
Chemical Engineering
Physics
Electrical Engineering
Mathematics
Computer Science
Suleman Dawood School of Business
BSc (Hons):
Management Sciences
Accounting & Finance
Syed Ahsan Ali and Syed Maratib Ali School of Education
Shaikh Ahmad Hassan School of Law
Also apply for Turkey Government Burslari Scholarship 2022
Eligibility criteria:
Applicants must have 80% marks in matric or O-levels
Applicants must be financial deserving applicants
Dates to Remember:
Summer Coaching Application Deadline: 
March 29th, 2023 till 5:00 pm (PST)
Summer Coaching Session Document Submission Deadline: 
March, 2022 till 5:00 pm (PST)
Selection Announcement:
May – June each year
 Admission Application : 
February 2024
Submission of supporting documents:
 February 2024
SAT Test:
December – March of each year
How to Apply:                                     
There are the following steps for the application to get scholarships in LUMS:
STEP 1 – Application Process:
It's okay to Apply to NOP while you are in the First Year of Intermediate or A-Level because This will be two years before the start date of the undergraduate program at LUMS. It is mandatory for students to attend the academic session in 2022 will be able to join LUMS in the academic year 2023.
STEP 2 – Summer Coaching Session:
After selection datesShortlisted candidates will be called summer coaching sessions at LUMS for two weeks. The session will be arranged during the summer holidays and all expenses, except traveling, will be covered by Lahore University of Management Sciences through NOP.
STEP 3 – SAT Exam:
Another important and delightful information for the candidates is that LUMS will pay the SAT registration fee of candidates who successfully complete the NOP Summer Coaching Sessions.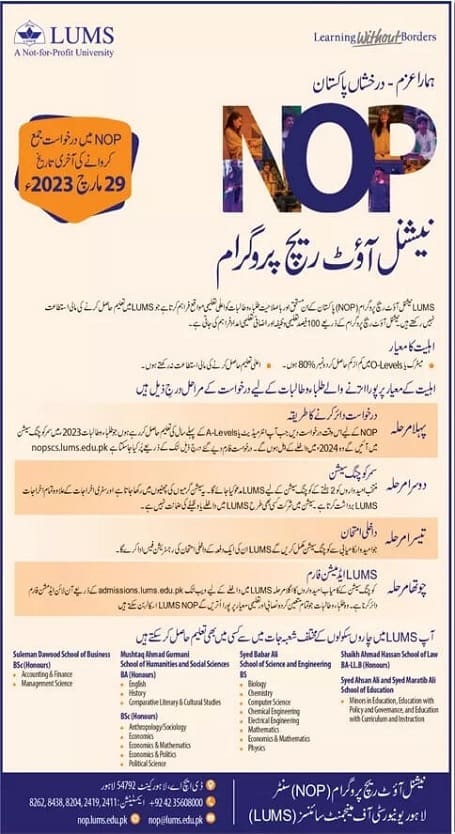 STEP 4 – LUMS Admission Form:
The last step for successful NOP Summer Coaching Session candidates is to fill an online application for admission to LUMS through the following link which is mentioned below. After completing all steps applicants will able to get admission in LUMS for undergraduate programs.