Applications are invited for the State Bank of Pakistan. SBP is looking for young and energetic candidates for the post of Assistant Directors OGII. Working under such a big organization is a dream and we are giving you the details of this dream as applications are invited for State Bank Officers Training Scheme OG2. Like each year this year, SBP also announced multiple vacancies for SBOTS. These Jobs will be held in Karachi Pakistan.
Also See this: Fully Funded Azerbaijan Government Scholarship 2022 – Application Form
There are multiple opportunities offered by SBP for OG2. The eligible and hard-working applicants who wanted to do jobs in Banking fields and the Bank like State Bank of Pakistan is going to have a great opportunity and applicants are encouraged to apply. Applicants with the required qualifications can apply for the SBOTS for the SBP Batch 25.. The details and descriptions of these jobs are given in this post. Working for the SBP is like a dream for all the graduates out there but now this dream going to come true for all the strong and career-oriented candidates. All the hard-working and determined applicants who wanted to take a step in the future and ambiguous to make their career in a whole new world developed and well-equipped organization gear up and make your future clear for the SBP jobs.
SBP is the Central Bank of Pakistan. Both males and females having required qualifications can apply for  SBOTS-25 jobs. Salary will be handsome about 81000 and in training, it will be 41000. SBP is looking for candidates who fit the eligibility criteria.
Vacancies:
State Bank Officers Training Scheme (SBOTS)
Area of Working:
Development Finance and Islamic Banking
Financial Inclusion and Digital Payment Systems
Information Technology and Human resources
Monetary Policy
Macroeconomic Research and Data
Banking Policy and Supervision
Development Finance and Islamic Banking
Location of Jobs:
SBOTS jobs located will be from Karachi. Candidates can apply from all over Pakistan and Azad Jammu and Kashmir.
Required Qualifications:
Public Administration
Masters in Business Administration
Economics
Commerce
 Finance
 Statistics
 Data Sciences
Actuarial Sciences
 Accounting
Computer Sciences
Information Systems and Technology
Mathematics
Human Resource Management
Agriculture Management (other than BSC or MSC in Agriculture)
 Islamic Banking & Finance
Law
 Media & Culture Studies
 Philosophy and Physics
You May Also Apply for World Bank Internship Program in the USA
SBP Detail:
| | |
| --- | --- |
| Country | State Pakistan |
| Organization | State Pakistan |
| Salary | 80000+ |
| Job Location | Karachi |
| Qualifications | MasterS 16 Year Education |
| Age | 26 Years females can get 3 years relaxation |
SBP Vacancies Details
Eligibility Criteria:
The qualifications are different for the various posts and please check the official site link and advertisement given below. The age limits are different for various posts to check the official advertisement.
Applicants must have done 16 years of education from the HEC recognized university
Applicants must have 2.50/4.00 CGPA or 60% marks or 3.50 out of 5.00 CGPA.
Applicants who will graduates in July will apply with a provincial Transcript of the 7th semester
The age of applicants must be 26 years and for females, 3 years relaxation will also be given
Applicants must be from Pakistan or Azad Jammu and Kashmir to apply in.
Deadline:
The last date to apply for the SBP OG-II vacancies is 14th February 2022.
How to Apply:
Applicants have to apply Online through the NTS website:
First applicants have to give a written test for the post of SBOTS-25
After clearing the test applicants has to give an interview before the panel
Pre Induction Training:
after completion of all formalities including medical, psychological examinations, and proof of completed educational documents, the selected candidates shall be required to undergo Applied Focused Theoretical Training (residential) at the National Institute of Banking and Finance (NIBAF), Islamabad as Trainees. The trainees who successfully complete and qualify for the training will be offered an appointment as Assistant Director (OG-2) at SBP.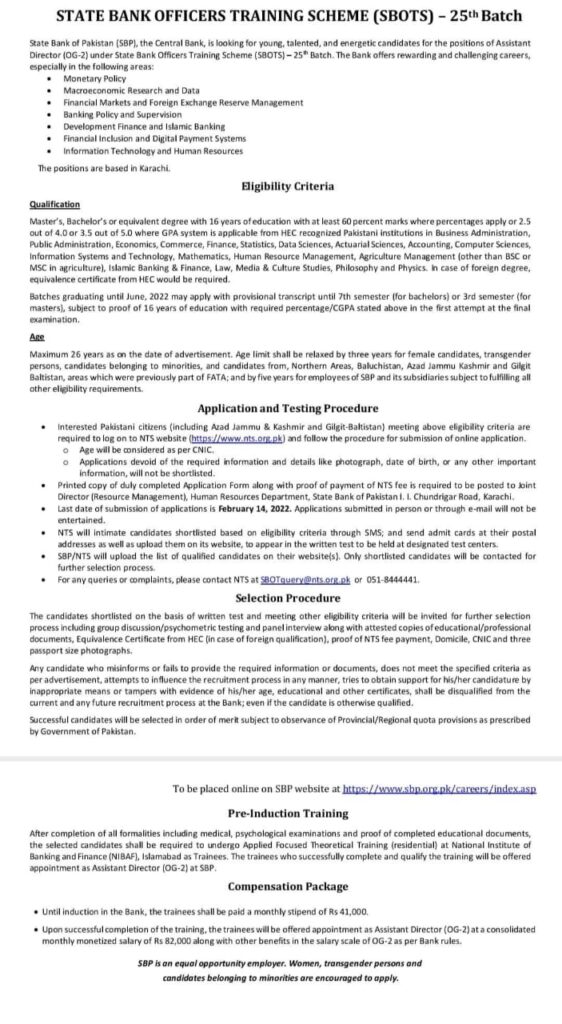 Be a part of our community & let us help you succeed. Please do like and follow our Social Media Pages.
The aim of Study Hunt is to create awareness that lets people land their dream Scholarships and Careers. Our vision is to spread worldwide opportunities for the youth and our mission is that our youth grab different opportunities to further pursue and advance their careers. We bring people around the globe closer by providing information about all these opportunities on a single platform. For More Detail Keep Visit Daily studyhunt.Info or next time you can search on Google type studyhunt.info.