We are updating you about Global Undergraduate Exchange Program as Applications are now open for the Global UGRAD Undergraduate Exchange Program 2022 in USA. Global UGRAD is administered by World Learning on behalf of the U.S. Department of State's Bureau of Educational and Cultural Affairs. The 2022 Global Undergraduate Exchange Program has the Applications status as open now students can apply now for this year's UGRAD Exchange Program. The Global Undergraduate Exchange Program (Global UGRAD) provides a diverse group of emerging student leaders with a scholarship for one semester of non-degree academic study at a U.S. college or university. The Global Undergraduate Exchange Program (Global UGRAD) is for International Students the eligible countries list given below.
The Global Undergraduate Exchange Program is sponsored by the U.S. Department of State with funding provided by the U.S. Government and administered by World Learning. The Global Undergraduate Exchange Program (Global UGRAD) brings future leaders to the U.S. to experience the U.S. educational system, share their culture, and explore U.S. culture and values.
Since 2008, World Learning has provided this opportunity to over 2500 Global UGRAD students.  Participants leave the U.S. with the tools to become leaders in their professions and communities. Global UGRAD alumni go on to receive Fulbright grants, obtain prestigious international internships, and work in business and government in their home countries and regions.
Global Undergraduate Exchange Program (Global UGRAD) 2022 in USA Detail:
Location: United States of America (USA).
Countries: Global
Duration: One semester
Funder: U.S. Department of State
Type: Fully Funded Program
Gender: Males & Females
Age limit: Maximum age limit is 25 years old
Tentative Announcement Every Year: October/November
Deadline: 06 January 2022
You May Also Apply Check This: Columbia University Scholarships Fully funded
Eligible Region/Countries for Global Ugrad Exchange Program:
Students from following countries can apply for This Exchange Program,
Albania, Algeria, Armenia, Azerbaijan, Bahrain, Bangladesh, Belarus, Bosnia-Herzegovina, Cambodia, China, Costa Rica, Dominican Republic, Egypt, El Salvador, Ethiopia, Georgia, Guatemala, Haiti, Honduras, India, Indonesia, Israel, Jordan, Kazakhstan, Kenya, Kosovo, Kuwait, Kyrgyzstan, Laos, Lebanon, Macedonia, Malaysia, Mauritania, Mauritius, Moldova, Mongolia, Montenegro, Morocco, Mozambique, Myanmar, Nepal, Nicaragua, Niger, Oman, Panama, Paraguay, Philippines, Qatar, Russia, Saudi Arabia, Serbia, South Korea, Sri Lanka, Tajikistan, Thailand, Tunisia, Turkmenistan, Ukraine, United Arab Emirates, Uzbekistan, Venezuela, Vietnam, West Bank and Gaza, Zimbabwe.
The eligible candidates with the required qualifications can apply for the Global UGRAD Undergraduate Semester Exchange Program in USA. The details and descriptions of each post are given below.
Note: This program is also available for Pakistani students under the name of Global UGRAD Pakistan which is organized by THE UNITED STATES EDUCATIONAL FOUNDATION IN PAKISTAN.
Global UGRAD Universities/Colleges List:
Following are universities and colleges list where Global ugrad students can be assigned,
Note: You can assigned to Universities/Colleges other than list below.
University of Alabama in Huntsville
University of Arkansas
California State University
Humboldt State University
Colorado State University
Florida Gulf Coast University
Illinois State University
North Central College
University of Evansville
University of Southern Indiana
University of New England
Endicott College
Minnesota State University – Mankato
St Cloud State University
University of Minnesota, Twin Cities
Jackson State University
University of Mississippi
Missouri State University
University of Missouri – Columbia
Grand Valley State University
Montana State University
University of Montana – Missoula
New Hampshire University
Barnard College
Nazareth College
State University of New York – Plattsburgh
Utica College
North Dakota State University
Shawnee State University
Chatham University
Indiana University of Pennsylvania
Juniata College
Lincoln University of Pennsylvania
Augustana College
East Tennessee State University
Maryville College
Tennessee Tech University
Austin College
University of Texas at Austin
University of Utah
Marymount University
Shenandoah University
American University
University of Wisconsin – Eau Claire
University of Wyoming
Also check scholarship opportunity University of Boston Scholarships 2022-2023
Benefits of Global Undergraduate Exchange Program (Global UGRAD):
The Global UGRAD Undergraduate Exchange Program is fully funded mean everything is funded by the Program United States Department global UGRAD. You don't have to be compelled to pay one Penny the advantages are:
Round-trip airfare
Tuition and fees
Housing and meals
A limited allowance for books
Accident and sickness coverage
Monthly maintenance allowance
FACEBOOK GROUP
WHATSAPP GROUP 2
WHATSAPP GROUP 3
WHATSAPP GROUP 4
WHATSAPP GROUP 5
WHATSAPP GROUP 6
FACEBOOK PAGE
YOUTUBE CHANNEL
Global Undergraduate Exchange Program (Global UGRAD) Goals:
Enhance students' academic knowledge and professional skills needed to pursue long-term academic and career goals.
Cultivate students' comprehensive and nuanced understanding of the U.S.
Facilitate opportunities for students to establish social networks with U.S. host institutions and local communities.
To promote mutual understanding between people of the United States and other countries.
Provide a fulfilling exchange experience to drive academic, cross-cultural and leadership competencies for students from Global UGRAD countries.
Empower students to engage constructively in the civic life of their local and global communities.
More opportunities to study in USA Simmons University Kotzen Scholarships Fully Funded
Eligibility Criteria:
Over 18 years old by August 1, 2022.
A citizen of a Global UGRAD participating country, currently residing in that country.
A full-time, undergraduate student in good standing at any accredited university.
Public or private, and has at least one semester remaining at their home university at the conclusion of the Global UGRAD program in May 2022.
A solid command of written and spoken English (English Language training for some finalists are possible).
Able to begin studies in the U.S. in August 2022 or January 2023 (selected participants may not defer to a later date).
Committed to service in your community.
Eligible to receive and maintain the U.S. student exchange visa (J-1) required for the program.
Cleared by a physician to participate in the program.
Committed to returning to their home country after the completion of the program.
You May Also Check This: University of Boston Scholarships 2022-2023
Some Important Tips for Selection:
Here you'll realize the previous personal Statements of Global UGRAD Undergraduate Exchange Program & you will find the necessary Links. We are positively sure that this can assist you. Get a plan from these Links & build yours. Personal Statement plays a very important role in your selection. Here is that the list of Personal Statements that created to the United State of America. It is time for you to COMPOSE your essays for the Global UGRAD program if you are an undergraduate student. Hurry up and do not miss the opportunity to explore the United States!
Statement of Purpose Sample for Global Ugrad
Click Here for Samples of Statement of Purpose
Our Recent global UGRAD Pakistan Live Webinar with Global UGRAD Undergraduate Exchange Program Current participant. Your queries are answered on this Session regarding Global UGRAD Undergraduate Exchange Program interview questions. Please Check Our YouTube Channel For Live Sessions. Playlist of Live Sessions of Global UGRAD Undergraduate Exchange Program in USA. Before filling the online application we recommend you that must watch the following video sessions for your proper guidance and the preparation of the statement of purpose to increase the chances of your selection in Global UGRAD Undergraduate Exchange Program.
Keep Share this Post in all your Facebook and WhatsApp groups for others Help.
Global UGRAD interview questions
Following are some of the questions asked in interview for global ugrad,
Hi how are You?
Please Introduce yourself?
Why you have applied for this program?
Why do you want to study in USA?
Why you want to study "your major (accounting, finance, and engineering) or Why you chose it
as your field of study?
What role you can play by studying "your specific subjects like accounting, business,
MBBS…etc."?
What role you can play between US and "Your Country" for cultural development?
What do you know about American culture?
What sports do you play? Why do you like it?
What are your academic goals?
How you can make a change?
If someone asked you to do something that you did not think was appropriate, how would you handle the situation?
Will you attend church with your host family if they are of a different faith?
Describe three issues that are facing your country today.
The customs and food will be very different from home. How will you assimilate?
What difficulties do you think you have to face in US?
What will you do if u don't find any Hilal Food and what will u do?
What hardship you have seen during your career/life so far?
How do u think u can contribute to your country after your studies?
What activities you would like to do in USA other than studies? How do you see yourself there?
Which cultural similarities "Your Country" and USA have?
Which kind of role "Your Country citizens" are playing in the progress of USA?
Your family background?
How you will represent Pakistan?
What leadership qualities do you possess in your community? Are you involve in your community?
How are you different from others? (Focus to answer it very well) or what makes u special and unique from others student/applicants?
What are your strengths?
What are yours weakness? (Tell your weaknesses in term of strengths, don't mention like
you wake up late, miss classes for outing…etc.)
What are your expectations from this program? Or how this exchange will benefit you and your community?
What change you feel in yourself after joining university?
Will your family admire you if you got selection for this program?
Which things in life do you value the most?
Let's suppose if we put you in small city in USA, how you would adjust yourself there?
If you criticized for wearing Hijab, how you will answer or manage the situation (for girls) or how would you adjust wearing hijab in America? (Your answer should be positive)
Where do you see yourself in the next 10 years?
What is your aim of life??
What are your hobbies?
Any Extracurricular activities?
Can u drink in USA in a party? If your friends insist you? (You can simply say "No, I can't" if you don't want to)
Who is the personality (alive) by whom you are inspired most?
How you will engage yourself in American campus life?
What extracurricular activates do you do in your daily life?
They may ask you about the organizations/societies you have joined and are a part of, as well as your community service if you have done any).
How you will implement your learning after coming back to Pakistan?
What extracurricular activates do you do in your daily life?
Global Ugrad Deadline:
The last date to apply for the Global UGRAD Undergraduate Semester Exchange Program in USA is 06 January 2022.
How to Apply for Global Ugrad for 2022:
Please visit the link given below to apply online for the Global UGRAD Undergraduate Semester Exchange Program in USA. It is in the interest of the applicants to study in detail and thoroughly observe the guidelines given in the official website before and while applying.
Log in to the World Learning website.
Make sure that you are eligible by answering some questions on the website.
Create a profile and start your application.
P.S. Finalists will be contacted for an interview in the US embassy in their home country.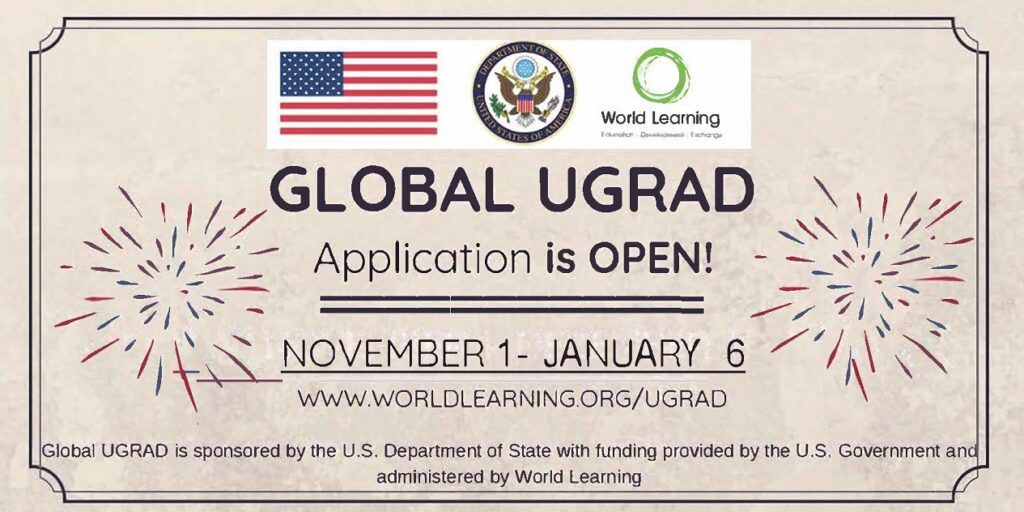 Global Ugrad 2022 Result
After the application process is completed the screening process starts after that selected candidates will be called for interview and Results for Global Ugrad Exchange Program will be announced later.
For More Detail Keep Visit Daily www.studyhunt.Info or next time you can search on Google type studyhunt.info – Keep Share this Post in all your Facebook and WhatsApp groups for others Help. If you have any questions ask in the comment section.