Stipendium Hungaricum
Studying in Europe is dream of every student around the world but the cost of study and living is very high which is a major hurdle for the most of the students to study in European universities. But many countries in EU provide full scholarship for the talented students to study in their universities. Another fantastic scholarship opportunity in Europe is open now as applications are open now to apply for Hungary Government Stipendium Hungaricum Scholarship 2023. There are lot of scholarships available so applicants have a higher chance of winning Hungary Government Scholarship. Last year around 5000 scholarships were awarded under Stipendium Hungaricum Scholarship by the Hungarian Government.
Applicants from 70 countries can apply for Non-Degree, Bachelors, Masters, One Tier Master and PhD degrees under Stipendium Hungaricum scholarship program. This program has around 70 partner countries whose students are eligible to apply for this scholarship. Another great part about Stipendium Hungaricum is that there is no application fee to apply. And also IELTS/TOEFL is not required. This gives opportunity to lot of students around the globe who does not have IELTS/TOEFL result.
Apart from this there is another opportunity to study in European countries for free under European Commission's Erasmus Mundus Scholarship program for 2023 is also open to apply so check them as well. Applicants can apply for up to two programs of their relevant subjects at the time of application. English language proficiency is encouraged to submit, minimum IELTS band required is 5.5 if can if candidate don't have English proficiency certificate then an skype interview will be conducted to check candidate's English language skills.
Hungary Government Scholarship Details
| | |
| --- | --- |
| Organization | Hungary Government |
| Region | Europe |
| Education Level | Non-Degree, Bacahelors, Master, and Ph.D. |
| Financial Coverage | Fully Funded |
| Eligibility | 70+ Countries |
| Gender | Male/Female |
| Coverage | Fully Funded |
| Last Date to Apply | January 16, 2023 |
Hungary Government Scholarship Details
Scholarship Duration
Stipendium Hungaricum offer scholarships for Non-Degree, Bachelors, Masters, One Tier Master and Phd degrees and each has different scholarship duration below you can find that info,
Non-degree Programs: 1 Year
Bachelor's Degree: 2-4 Years
Master's Degree: 1.5-2 Years
One-tier Degree: 5-6 Years
PhD Degree: 4 Years
More scholarships in europe Sweden Government Scholarship
Minimum Education Required
Each degree programs required a minimum of level of education, details are as follows,
Bachelor's Degree (after 12 years education)
One-Tier Master's Degree (after 12 years education)
Master's Degree (after 16 years education)
PhD Degree (after 17/18 years education)
Scholarship Benefits and Coverage
Under Stipendium Hungaricum Scholarship program candidates can get following benefits and coverage,
Full Tuition Fee Coverage
For non-degree, bachelor's, master's, one-tier master's levels monthly stipend of HUF 43,700 until the duration of degree
For PhD levels monthly stipend of HUF 140,000(Phase 1) to HUF 180,000/- for the second phase until the duration of degree
Free Accommodation or a contribution of HUF 40,000/month to accommodation costs for the whole duration of the scholarship period.
Health Care Insurance
Stipendium Hungaricum Requirements:
To be able to apply for Stipendium Hungaricum Scholarship programme applicants must meet following criteria,
Must be from the partner countries
Must be between the age of 18-22 years for Undergraduate programs, for which they are applying for admission and the age limit should not exceed from 35 years for postgraduate Master's (18 years) and PhD programs on January 15, 2022. In case of PhD programs, for full time employees of public sector Universities, Colleges and R&D organizations the maximum age shall be extended up to 40 years (on last day of deadline) subject to provision of No Objection Certificate (NOC).
Applicant must have completed HSSC/Intermediate or equivalent for application in Bachelor's (Undergraduate Program) and One-Tier Master's degree.
Applicant must have completed 16 years Bachelors/or equivalent Degree for application in Master's (Postgraduate Program).
The applicant must have completed 18 years Degree/or equivalent for application in PhD Program.
The applicant must fill all the fields of the Hungary application form and HEC application form and no column or field should be left unfilled.
Certificates/Transcript/Degrees to be attached must be attested by the attesting authorities such as IBCC and HEC. Equivalence of O & A level from IBCC is mandatory.
It is the sole responsibility of student(s) applying for any professional degree (Medical, Engineering, Nursing, Architecture, Law, Veterinary Medicine etc.) to first get confirmed its accreditation from the respective Councils
IELTS/TOEFL scores as required, where applicable.
All applicants must submit medical certificate of satisfactory health condition (issued not earlier than 15 November 2021, a written certificate from a physician to prove that the applicant does not have the following illnesses: AIDS, Hepatitis A, B, C or any other epidemic conditions)
In case of final selection, applicants will have to submit a bond on legal paper to HEC that he/she will not change discipline after final award of scholarship, and immediately after completion of his/her degree, he/she will return back to Pakistan to serve the country for a period as prescribed by the HEC. In case of failure to do so, HEC reserves the right to recover from candidate or his/her guarantor, a penalty amount as prescribed/decided by the HEC.
Applicants must fulfill all other requirements set by host Hungarian university/Tempus Public Foundation/Higher Education Commission of Pakistan.
In case of final selection, candidate has to submit a bond agreement.
Also apply for Central European University Scholarships in Hungary
Stipendium Hungaricum Age Limit
For Undergraduates age limit is from 18 to 22 years.
For Masters and PhD program maximum age limit is 35 years
For full time employees at public sector universities, colleges and R&D organizations maximum age limit is 40 years
Participating Universities
Following universities in Hungary offers scholarship under Hungary Government's Stipendium Hungaricum Scholarship Program,
Andrássy Universität Budapest
Apor Vilmos Catholic College
Balassi Institue
Budapest Metropolitan University
Budapest University of Technology and Economics
Corvinus University of Budapest
Debrecen Summer School
Eötvös József College
Eötvös Loránd University
Eszterházy Károly University
Hungarian Dance Academy
Hungarian University of Agriculture and Life Sciences
Hungarian University of Fine Arts
International Business School
John von Neumann University
John Wesley Theological College
Károli Gáspár University of the Reformed Church in Hungary
Kodály Institute of the Liszt Ferenc Academy of Music
Liszt Ferenc Academy of Music
Moholy-Nagy University of Art and Design
Óbuda University
Pázmány Péter Catholic University
Semmelweis University
Széchenyi István University
Tomori Pál College
University of Debrecen
University of Dunaújváros
University of Miskolc
University of Nyíregyháza
University of Pannonia
University of Pécs
University of Physical Education
University of Public Service
University of Szeged
University of Theatre and Film Arts Budapest
University of Veterinary Medicine Budapest
Wekerle Sándor Business School
Do you know Italy Government Scholarships is also available for international students, check them if you are interested.
Eligible Countries
Applicants from following countries are eligible to apply for the scholarship by the Hungarian Government,
Albania
Algeria
Angola
Argentina
Azerbaijan
Bangladesh
Belarus
Bosnia and Herzegovina
Brazil
Cambodia
Cape Verde
Chile
China – HUDEC
China – Mainland
Colombia
Costa Rica
Cuba
Ecuador
Egypt
Eritrea
Ethiopia
Georgia
Ghana
India
Indonesia
Iran
Iraq
Israel
Japan
Jordan
Kazakhstan
Kenya
Kosovo
Kurdistan Region
Kuwait
Kyrgyzstan
Lao People's Democratic Republic
Lebanon
Malaysia
Marshall Islands
Mexico
Moldova
Mongolia
Montenegro
Morocco
Myanmar
Namibia
Nigeria
North Macedonia
Oman
Alliance (member states: Chile, Colombia, Mexico & Peru)
Pakistan
Palestine
Panama
Paraguay
Russian Federation
Rwanda
Saint Lucia
São Tomé and Príncipe
Serbia
Seychelles
Sierra Leone
Singapore
South Africa
South Korea
Sudan
Syria
Taiwan
Tajikistan
Tanzania
Thailand
Philippines
Tunisia
Turkey
Turkmenistan
Uganda
Ukraine
Uruguay
Uzbekistan
Vietnam
Yemen
More government funded scholarships in Europe as you can apply for Spanish Government Scholarships For International Students
Required Documents:
Following are the documents required to apply for Hungary Government scholarships for the year 2023,
Online Application Form
A valid passport
Motivation Letter
Proof of language proficiency and their translations in the language of the selected study program or in Hungarian.
School certificates and their translations in the language of the selected study program or in Hungarian
Transcript of Records and its translation in the language of the selected study program or in Hungarian
Medical certificate
Copy of passport
Acceptance of Statement for Application in Tempus Public Foundation Hungary online system
Research Plan for PhD
Letter of Recommendation for PhD
Statement of the Supervisor for PhD
Portfolio (For PhD)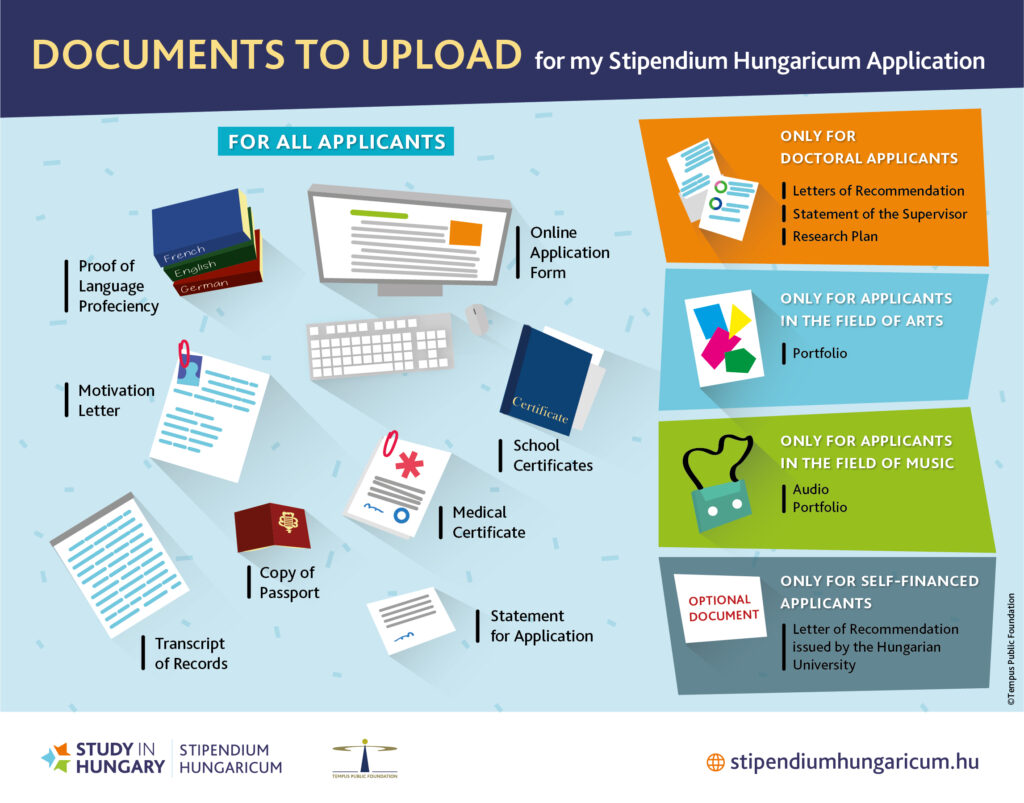 Note:
All documents that cannot be obtained in the language of the selected study program or in Hungarian have to be translated and the translations have to be submitted as well as the copy of the original document.
Deadline for 2023-2024
Last date to apply for the Stipendium Hungaricum Scholarship is 16 January 2023.
Application Timeline

Stipendium Hungaricum Apply Online
First you need to register an online account by vising the link stipendiumhungaricum.hu/apply/
Then log in and search for the program you want to study
Then fill all the details like personal information, contact information, Educational information, Languages, Employment(if any), Activities and upload all the required documents
After filling all the relevant info and uploading all the required documents click Submit to complete your application.
Visit Apply Link to start your applicantion process for Stipendium Hungaricum
Scholarship Details for 2023 is available now.
Stipendium Hungaricum Acceptance Rate
Stipendium Hungaricum is highly competitive scholarship and only top students get the scholarship. in 2022 more than 52,000 students from 5 continents applied for the Scholarship and 4700 plus students got the scholarship. So the acceptance rate of Stipendium Hungaricum is 11%.
Results
Results for Stipendium Hungaricum will be announced by end of June to middle of July.