Another great opportunity is inviting applications for the students who wanted to study in a Germany for their higher education. Applications are open now for the DAAD Scholarships in Germany for the academic year 2023-2024. These scholarships are held in Germany. All the international students who wanted to study in Germany have the great opportunity to study in Germany. Only selected courses from state universities in Germany are available for the scholarship, German Academic Exchange Service (DAAD) choose these courses from wide list of courses at German Universities in fields of development and industrialization.
The main purpose of DAAD scholarships is to train the young generation for the development of not only the world but also their homeland. DAAD scholarships are highly encouraged for international students to take part in the industrialization of their native land. In this way Germany are taking part in the development of the whole world. Scholarship is fully funded and it covers all educational and living expenses of students throughout the course of studies.
DAAD Scholarships are available for Masters/ MPhil, MBA, LLM, and Ph.D. programs. This time these German scholarships are 202 in total numbers. A great opportunity to take part in their fields of interest to bring a positive change towards the societies. Two-year master's programs will be taught in post-graduate scholarship programs and also few DAAD scholarships are available for the Ph.D. programs. These scholarships will give many financial benefits to the students like living expenses, monthly stipend, health, and medical insurance and also give exposure to meet the new people belonging to different cultures. Apart from these benefits travel and accommodations expenses will also be covered by the DAAD scholarships. You may also like to apply at Heinrich Boll Foundation Scholarship in Germany
Details:
| | |
| --- | --- |
| Country | Germany |
| Scholarship Program | DAAD Scholarship Programs |
| Available Degree Programs | Masters, Mphill, MBA, LLM, PhD |
| Gender | Males, Females |
Details of DAAD's Scholarships in Germany
Duration of Programs:
For master's programs duration of DAAD's scholarships is 12 to 24 months. And for the PhD programs duration is 42 months.
Scholarship Deadline:
The last date to apply for the DAAD scholarship in Germany depends upon the program in which the candidate is going to apply. Deadline for scholarship and self finance applications are different. Visit the link below to see the DAAD Scholarship Deadline.
Deadline of all the Available Programs by DAAD
Available Countries & Continents:
Countries of the following continents are eligible for DAAD's Scholarships.
Europe
Africa
North Africa
Sub Saharan Africa
Senegal
North and Central America
South America
Near and the Middle East Asia
South and Central Asia
East Asia
Oceania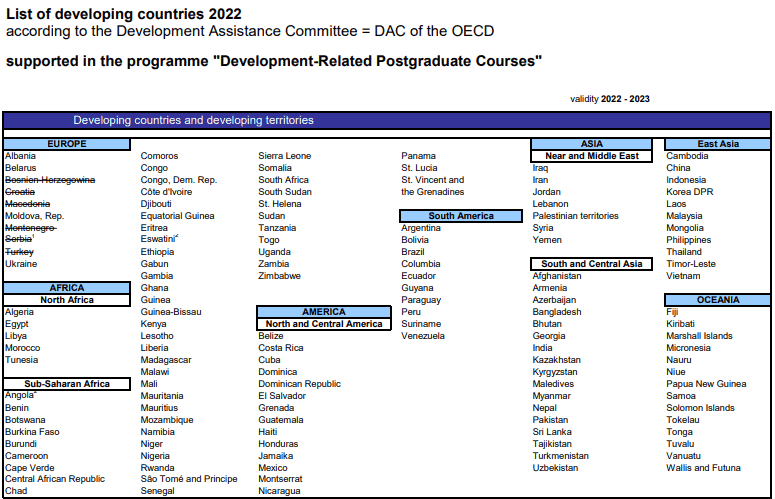 Available field of Study:
Development related sciences
Engineering
Mathematics
Architecture and related/Urban Development
Economics
Law
Medicine Science
Forestry Science
Geography
Informatics
Health-related Sciences
Environmental Sciences
Media Science
Political Science
Geography and Geosciences
Forestry Science
Business Administration
Education Sciences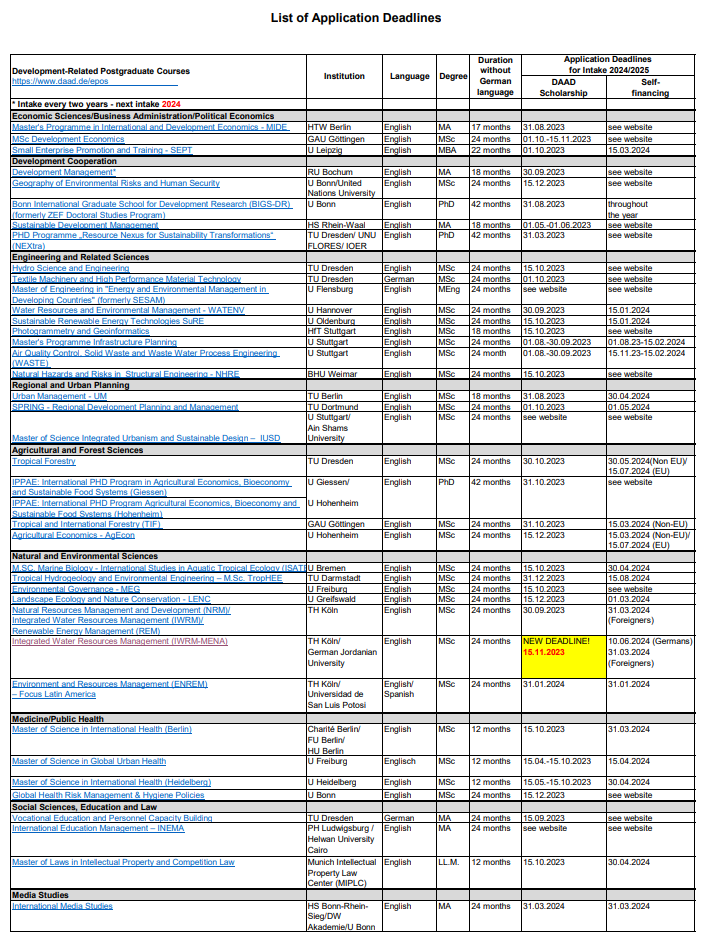 DAAD Scholarship Universities List
Following is the list universities in Germany offering fully funded scholarships for international students,
Financial Benefits:
DAAD Scholarships covered many financial needs of the students who are studying at the Institute of Germany.
Monthly stipend of 934 euros for Masters and 1200 euros for doctoral candidates.
Academic expenses like tuition fees will be fully covered.
The monthly stipend will also be provided to the candidates
Medical insurance will also be covered
Accommodation will also be provided to the candidates and also to his dependants
A travel allowance will be awarded to the successful candidates
Monthly rent will be subsidized of the candidates.
Students from all around the world can apply now for Turkey Government Burslari Scholarship
Eligibility Criteria:
Applicants must have 4 years Bachelor's degree if they are applying for a masters program
Applicants must have a masters degree or equivalent if applying for the Ph.D. program
Applicants must have 2 years of professional work experience.
All international students are eligible for Daad's Scholarships
Applicants if residing for more than 15 years in Germany are not eligible
Candidates must have done either IELTS or TOEFL for English taught programs. For German programs DSH 2 or TestDaf 4 is required.
Required Documents:
DAAD application form
A detailed Curriculum Vitae (Hand signed in europass format)
Copies of transcripts and degrees
Experience Letter or employment Letter
English Proficiency Certificate IELTS/ TOEFL
Motivation or intention Letter of the candidates
Letter of Recommendations
How to Apply:
Applicants need to apply online for DAAD's scholarships in Germany
Applicants have to apply only for one post-graduate program. Three Courses are limitations in each program
Applicants have to apply directly at the eligible course from university site.
A selection committee will select potential candidates for DaaD scholarship.
Selected candidates will be asked to complete there application from DAAD portal.
Finalized candidates will be informed accordingly
DAAD Official Website
To get any further information about DAAD Scholarship interested applicants are advised to visit the DAAD Official Website by visiting the link below,
Apply Online through the official DAAD Portal