The PPSC Educators Jobs first Phase Start From District to District PPSC Educators Jobs in October. Educators Seats In Next Phase Faisalabad, Lodhran seat & then Gujranwala & Chiniot seats are coming through PPSC.
Get Ready Guys For Educator Jobs Start District Wise Total Number of Jobs 70,000 in 1st Round 5000 Job announced Through PPSC in Rawalpindi and Mianwali 65,000 left. Source Link: Educators jobs October For ESE, SESE, and SSE
Youth Helping Desk:
Send your Name and your Qualification on the given Instagram link https://www.instagram.com/mir.ali.hassan/ or you can also search on Instagram (@mir.ali.hassan) so we will also share some helping information. This is for your guidance and for more help to prepare yourself.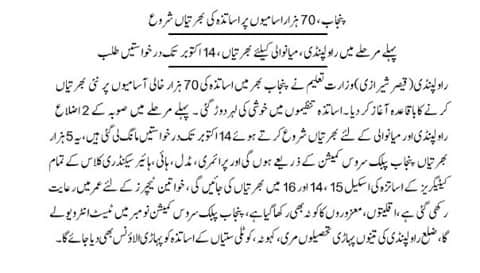 GUIDELINES FOR ASPIRANTS OF EDUCATOR JOBS:
(1) SSE (BS-16) and above posts are gazetted means you can attest/verify photocopies/documents of others as it is gazetted seat whereas ESE BS-14 and SESE BS15 are non-gazetted seats.
(2) Now, PPSC will conduct Written Test, Interview and publish Final Merit Lists of Selected Candidates for Educators of School Education Department, Punjab.
(3) The news of 70,000 Educators is just a rumor, there will be abt. 15,000 jobs in whole Punjab, different districts with more or fewer seats and syllabus for each post is given in the advertisement and Each district's vacancies will be filled Phase by Phase one after another (NOT AT SAME TIME as it happens in earlier NTS recruitments). And Merit will be District Specific. No person from another district can apply in another District in exception to Newly Married Female who can apply on the Domicile of Her Husband).
(4) The passing marks in PPSC's Written Test are 40/100 and passing marks for Interview 50/100. But only the top 05 candidates are shortlisted/called for Interview for every 01 seats.
(5) Merit formula in PPSC includes the addition of;
i. Marks of Written Test divided by 2.
ii. Obt Marks Marks of Interview.
iii. 40 Marks are for %age of Academic Degrees i.e. 10 for SSC/Matric, 10 for FA/FSc., 10 for BA/BSc, 10 for MA/MSc or 20 for BS-4 Years.
iv. 05 Marks for research paper
v. 05 Marks for position holders.
(6) There is a Negative Marking of 0.25 per each 01 Wrong Answer in PPSC's Written Test.
(7) The initial appointment will be on a Contract Basis as B.Ed. (professional qualification) in NOT COMPULSORY. You will be made permanent after some time span (within 01 to 5 Years), no one is expelled from a job who gets appointed by PPSC. The contract appointment will be made permanent as you complete B.Ed. or as & when Punjab Govt. decides.
(8) B.ed is not compulsory, but you have to gain a degree of B.Ed within 5 years of contract otherwise your contract will be terminated/canceled and you will not be made permanent.
(9) Only the Domicile Holder of that Particular District can apply for seats of That District in all of its Tehsils, but there are 4 marks Additional Marks for the person of that specific Tehsil of that District.
(10) PPSC's Rule of Maximum 03 Chances to PASS a test, is also applicable for each cadre of Educators i.e. 03 chances to pass ESE BS-14, 03 chances to qualify SESE BS-15 and 03 chances to qualify SSE BS-16 (in each cadre separately) that implies that if you get 40 and above marks in MCQs test then there is not waste of chance, but if you fail and get below 40 marks in PPSC your ONE chances will be wasted for that specific cadre/seat.
(11) There is no weight age/additional/extra marks for M.Phil. or Higher Education in PPSC (from April 2017 and Onwards). Now, you have to provide only that qualification that is demanded in the Advertisement i.e MA/MSc. for the required post of Educators. No extra qualification will be given any credit in PPSC.
(12) No additional marks for B.Ed holders, but if any MA/MSc/BS + B.Ed degree holder is selected by PPSC as Educator (on any scale like BS-14, 15, 16) then he will get Rs. 1000 extra than just MA/MSc/BS but having No B.Ed. degree, teacher as Teaching Allowance.
Preparation Material:?
? http://bit.ly/2nCWqlu
Apply Now:
? http://bit.ly/2lZBdkC
How you can Apply:
? http://bit.ly/2mkRUXY
Keep Support & Share this Post in all your Facebook and WhatsApp groups for others Help. For the latest Upcoming Opportunities Stay Tuned. If you need any guidance Comments or Inbox.
PPSC Educators Jobs in October 2019 – School of Education Department by Govt. of Punjab 70,000+ Educators Upcoming Jobs 2019 By PPSC 70,000 new seats or Jobs Approval by Govt. of Punjab. Upcoming 70,000+ PPSC Punjab Educators Jobs 2019 will be Soon Declared. The government has announced 70,000+ new jobs in the School Education Department by the Punjab Government of the Higher Education Department.
For the PPSC Educators Jobs preparation start from the today & you can visit the followings links given below for the Educators Preparation Materials, PDF Books Guides PPSC Past Papers of all subjects/posts and for the guidance of the PPSC Educators Jobs the detail and descriptions are given below please read all detail.
Note: It is in the interest of the applicants to study in detail and thoroughly observe the guidelines given on the official website before and while applying online.
PPSC Educators Jobs in October – School of Education Department by Govt. of Punjab 70,000+ Educators Upcoming Jobs. Govt. of Punjab has declared further 70,000+ PPSC Educators jobs. Punjab Govt. has given approval for the employments of Educators' jobs. PPSC Educators Jobs in October announced district wise for Educators & AEO's in 36 districts. There are ESE, SESE, SSE & AEO's BPS scale is 14, 15, &16. PPSC Educators Jobs the advertisement will be published for the latest upcoming educators Jobs in September according to the newspaper. Those candidates who have a degree with the third division cannot apply. and those candidates who have a degree with 2nd division can apply for the PPSC Educators Jobs.
Applicants must have a masters degree and this year the candidates of having followings subjects Commerce, Engineering & Agriculture will be eligible for as well.
Share This Website with Your Friends & Family
School of Education Department by Govt. of Punjab 40,000+ Educators Upcoming Jobs will announce for Educators & AEO's in all 36 districts of Punjab. There are ESE, SESE, SSE & AEO's BPS scale is 14, 15, and 16. The Science / Arts Educators will be appointed in Primary, Middle & High Schools of Punjab Education Departments.
Also Apply For Link: CTI jobs in Colleges of Punjab – 4500 Vacancies for Male & Female
PPSC Educators Jobs in October Detail:
Education: MA, MSc, BS Honors (Minimum 16 years of education)
Vacancies / Positions: 70,000 Jobs for Educators By PPSC District Wise
Age Limit for Female: 20 to 30 Year + Relaxation of 8 Years.
Age limit for Male: 20 to 30 year + Relaxation of 5 Years
Gender: Male & Female
Location: All Over Punjab
Educators Jobs Available Positions:
ESE (BPS-14) Elementary School Education
SESE (BPS-15) Secondary Elementary School Education
SSE (BPS-16) Secondary School Education Teacher
AEO Assistant Education Officer
PPSC Educators Jobs District Cities or Locations:
Lahore
Rawalpindi
Faisalabad
Multan
Gujranwala
Sargodha
Sukkur
Bahawalpur
Bahawalnagar
Chakwal
Hafizabad
Jhelum
Chiniot
Khanewal
Sialkot
Sheikhupura
Rajanpur
Toba Tek Singh
Khushab
Dera Ghazi Khan
Khushab Okara
Vehari
Liyyah
Gujrat
Lodhran
Rahim Yar khan and Jhang.
Is B.Ed Necessary for all Posts Read Following Information:
This time policy will be a change, B.ed is necessary for applying online for Educators Jobs 2019, but before the education department will be giving us 3 years' time period to complete the b.ed degree. This time also the education department giving time duration otherwise many people right this case. B.ed is not compulsory, but you have to gain a degree of B.Ed within 5 years of the contract otherwise your contract will be terminated/canceled and you will not be made permanent.
Contents of NTS Educators Jobs:
Why Educator jobs very Important?
The Aim of the Government about PPSC Educator Jobs?
Latest Planning of Punjab Government
Scale Up-gradation 
Criteria and Qualification Of All SCALE 
ESE (BPS-14)
SESE (BPS-15)
SSE (BPS-16)
AEO (ASSISTANT EDUCATION OFFICER)
NTS Educators Merit Calculator 2018-2019
How to Apply For PPSC?
Marks Distributions of PPSC Educators Jobs:
Matric 15 marks
Intermediate 20 marks
Graduation 20 marks
Masters 20 marks
M.Phil./PhD 5 marks
Professional Qualifications 5 marks
Interview 5 marks
NTS educators test 10 marks
Join Our Facebook Group: https://www.facebook.com/groups/studyhunt.info/
For More Detail Keep Visit Daily www.studyhunt.Info or next time you can search on Google type studyhunt.info