Kyoto University Scholarships
Kyoto University is a private university in Japan, which offers various undergraduate, masters and Doctoral level degree scholarships for students from all around the world to become creative and innovative leaders for an interconnected world. The university is the second oldest university in Japan and offers courses from all academic fields and majors. As Japan is one of the major tourist destinations in the world, so getting a chance to study in this country with fully funded scholarship will be one of the best decisions ever to be made for your future. It is one of the Asia's highest ranked universities. It is a prestigious research institution that is financed by Japanese International students from all around the world are eligible to apply. The Duration of the Undergraduate Scholarship is 4 Years, Master Scholarship is 2 Years whereas For Doctoral Scholarship 3 Years. The number of students, who are currently enrolled in its undergraduate and graduate programs are around 20,000 students from all over the world.
The scholarship criteria are highly competitive and mostly the applications are accepted after matriculation. Also there are other scholarships that accept applications before matriculation depending upon the requirements and criteria. It is therefore advisable that students secure sufficient financial resources before coming to Kyoto. As all courses to be taught in English, so there is no need to have prior knowledge of Japanese Language to apply.
Each year, hundreds of International students get the scholarship opportunity to study at Kyoto University. It offers two types of scholarships for International students that cover partial and full expenses of the Undergraduate, Masters and Ph.D. students. We are giving you this platform to avail this opportunity in the most easiest and in the best possible way. These various scholarships offered at the University has its own required criteria to apply. Students from all nationalities are eligible to apply. Rotary Yoneyama Memorial Foundation offers fully funded Rotary Yoneyama Scholarships for international students.
Details
| | |
| --- | --- |
| Host Country | Japan |
| Host Institute | Kyoto University |
| Eligible countries | International Students |
| Degree offer | Undergraduate, Masters & Ph.D. |
| Coverage | Full and Partial |
| Deadline | Varies |
Kyoto University Scholarships
Undergraduate Programs
Following undergraduate programs are taught at Kyoto University,
Integrated Human Studies
Letters
Educational Sciences
Economics and Management
Science
Medical Science (six-year program)
Human Health Sciences
Pharmaceutical Sciences
Pharmacy (six-year program)
Global Engineering
Architecture
Engineering Science
Electrical and Electronic Engineering
Informatics and Mathematical Science
Industrial Chemistry
Bioresource Science
Applied Life Sciences
Agricultural and Environmental Engineering
Food and Environmental Economics
Forest and Biomaterials Science
Food Science and Biotechnology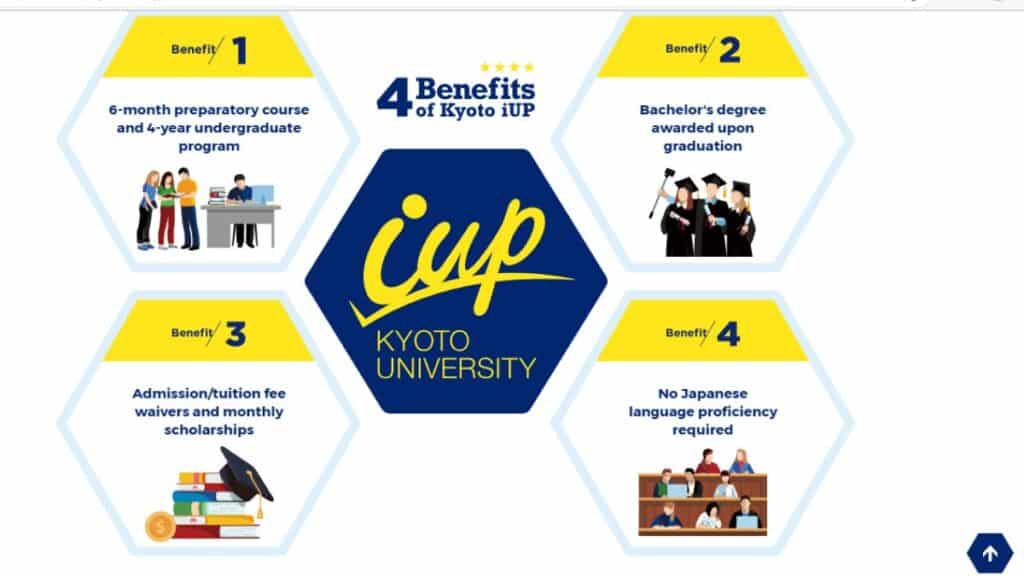 Graduate Programs
Following graduate programs are offered at Kyoto University,
Literature
Philosophy
History
Behavioral Studies
Contemporary Culture
Joint Degree Master of Arts Program in Transcultural Studies
Educational Studies, and Clinical Studies of Education
Legal and Political Studies
Law School
Economics
International Joint Master Degree Program in Global Markets
Local Creativities
Mathematics and Mathematical Sciences
Physics and Astronomy
Earth and Planetary Sciences
Chemistry
Biological Sciences
Medicine
Medical Science
Public Health
Human Health Sciences
Kyoto-McGill International Collaborative Program in Genomic Medicine
Biomedical Sciences
Medicinal Frontier Sciences
Pharmaceutical Sciences,
Bioinformatics and Chemical Genomics (not accepting new students)
Civil and Earth Resources Engineering
Urban Management
Environmental Engineering
Architecture and Architectural Engineering
Mechanical Engineering and Science
Micro Engineering
Aeronautics and Astronautics
Nuclear Engineering
Materials Science and Engineering
Electrical Engineering
Electronic Science and Engineering
Material Chemistry
Energy and Hydrocarbon Chemistry
Molecular Engineering
Polymer Chemistry
Synthetic Chemistry and Biological Chemistry
Chemical Engineering
Agronomy and Horticultural Science
Forest and Biomaterials Science
Applied Life Sciences
Applied Biosciences
Environmental Science and Technology
Natural Resource Economics
and Food Science and Biotechnology
Department of Human Coexistence
Department of Cultural Coexistence
and Department of Interdisciplinary Environment
Socio-Environmental Energy Science
Fundamental Energy Science
Energy Conversion Science
and Energy Science and Technology
Southeast Asian Area Studies
African Area Studies
and Global Area Studies
Intelligence Science and Technology
Social Informatics
Advanced Mathematical Sciences
Applied Mathematics and Physics
Systems Science
Communications and Computer Engineering
Integrated Life Science, and Systemic Life Science
Advanced Integrated Studies in Human Survivability
Global Environmental Studies
Environmental Management
Public Policy
Business Administration
Management Science
You can also apply for Keio University Scholarship for international students to study in Japan.
Scholarships
Following scholarships are available for international students at Kyoto University,
Japanese Government (Monbukagakusho: MEXT) Scholarships
Many countries from all around the world have established government scholarship programs to attract talented international students, so Japan is among one of those many countries. The entire funding is supported by the Japanese Government, the scholarship recipients of the MEXT Scholarship Program basically receive full-ride benefits, so the students don't have to worry about their financial expenses since all necessary costs are already paid for.
Scholarship Amount: Monthly Living Stipend, Coverage of Academic Fees, Airfare
Degrees Offered: Undergraduate, Masters, and Ph.D.
MEXT Scholarship benefits for Graduate Students
Monthly stipend: Research (non-degree) students 143,000 yen, Master's and professional degree 144,000 yen, Doctoral 145,000 yen
Those residing in certain regions may be eligible for an additional monthly payment of 2,000 or 3,000 yen
Fee exemptions: Examination, admission, and tuition fees are exempted
Travel expense coverage: One round-trip ticket is provided
MEXT Scholarship benefits for Undergraduate students
Monthly stipend: 117,000 yen
Those residing in certain regions may be eligible for an additional monthly payment of 2,000 or 3,000 yen
Fee exemptions: Examination, admission, and tuition fees are exempted
Travel expense coverage: One round-trip ticket is provided
If you are interested in more opportunities to study in Japan then you should also check University of Tokyo Scholarships
Scholarships from private foundations
Each year, Kyoto University selects and nominates candidates for approximately 60 private scholarship programs. Each program typically offers a scholarship of between 30,000 and 180,000 yen per month to one or two students. The application process varies according to program for private scholarships. Applications are generally accepted following matriculation (some programs accept applications from those who have been accepted into a university, but have not yet matriculated). Some programs accept applications from students themselves, while others require submission through the students' home universities. Japanese language proficiency level is required for these scholarships. A list of programs that accepted applications through Kyoto University during the previous academic year is available via University-nominated scholarships.
Scholarship Amount: Varies
Degrees Offered: Varies
Benefits
Each program typically offers a scholarship of between 30,000 and 180,000 yen per month
Each year, it provides 60 private scholarship program
Applications are generally accepted before matriculation
Asian Future Leaders Scholarship Program (AFLSP)
The program currently accepts approximately 100 students each year to study at six partner universities in Japan and China, including Kyoto, which annually hosts around ten scholars. Established by BXAI in 2014, AFLSP offers various opportunities for young people in Asia to study in other parts of the region, so as to help them understanding of different cultures while gaining the leadership skills needed to contribute to regional and global development.
Benefits
The scholarship offers each student up to US$25,000 per year or a total of US$50,000 for the duration of study
Scholarship funds may be used towards university tuition, housing, and personal living expenses.
Scholarship Opportunity for USA students by Burger King Scholarship Program
Asian Development Bank Scholarships
Kyoto University, in collaboration with the Asian Development Bank Japan Scholarships programme, is pleased to announce the commencement of the ADB-JSP Scholarships at the Graduate School of Management for international students for the academic year 2022-2023. The applicants with a bachelor's degree and relevant, adequate working experience will be considered. Winners will be provided tuition fees, monthly allowances, insurance, and other benefits.
Benefits
tuition fees
travel expenses
subsistence allowance of approximately 147,000 yen/month
medical/accident insurance
books/instructional material and research allowances
miscellaneous
Documents Required
Following documents are required to apply at Kyoto University, Each program may have specific documents required for application,
Online Application
Passport
Copy of official transcripts
Copy of official degrees
English or Japanese language proficiency certificate
Motivation Latter
Reference Letter
Previous research work (For Masters/PhD)
A study or research plan
Medical Health Certificate
Bank Statement
No criminal Record Certificate
Application Deadline
Kyoto University admission deadline for graduates is different each faculty. Generally international students should apply by late November.
For International Undergraduate Program applications will open from 1st November 2023 and the deadline is 4th December 2023.
How to Apply
Visit the official link for details about any specific scholarship.
Generally you need to get admission first then you will be considered for the scholarship.
If you have any question contact Kyoto University for further information.