Another great internship opportunity for graduates who are looking to gain practical on the job experience as applications are now open to apply for the European Union Paid Internship 2023. Students from all over the world can apply for this internship. Twice a year European commission offers paid internship opportunity in its Directorate-Generals, agencies and bodies, which have signed a Service Level Agreement with DG EAC/the Commission. The name of this traineeship is "Blue Book Traineeship Programme"
The duration of the European Union Traineeship Program is 5 months which will begin from October to the end of February the following year and second round traineeship will start from March to the end of July. Interested applicants must have no prior work experience of any kind, in excess of 6 weeks in any EU institution, body or agency, delegation, with Members of the European Parliament (MEPs), or Advocates General at the Court of Justice of the European Union (EUCJ). No IELTS or TOEFL is mandatory.
Trainees work all over the European Commission, its services and agencies, mostly trainees will be in Brussels, but also in Luxembourg and elsewhere across the European Union. The nature of your work will depend on the service you are assigned to. There is no age limit to apply so anyone can join and candidates can apply once per session but they can apply as many times as they want. Selected trainees can work 40 hours a week or 8 hours a day. Also apply for OIST INTERNSHIP IN JAPAN Fully Funded
Blue Book Traineeship Details
| | |
| --- | --- |
| Organization | European commission |
| Education Required | Graduate |
| Eligibility | From All Over the World |
| Stipend | 1300 euros |
| Duration | 5 Months |
| Locations | European Commission, its services and agencies, |
| Last Date to Apply | 31, January 2023 |
European Union's Blue Book Traineeship programme
Join Our Community
FACEBOOK PAGE | FACEBOOK GROUP | WHATSAPP GROUP 1 | TWITTER | INSTAGRAM
Type of Traineeships
There are mainly two types of traineeships,
Administrative Traineeship
Must have a command and good knowledge of two EU Official Languages. One of which language must be English, French or German at C1 or C2 level as per the Common European Framework of Reference for Languages. While the second language must be at B2 level for non-EU nationals.
2. Translation Traineeship
For translation traineeship with Directorate-General for Translation (DGT), applicant must be able to translate from 2 different official EU languages into his/her mother language.
your main/target language must be one of the official EU languages
your first source language for translation must be a working language of the EU: English, French or German
your second source language can be any of the official EU languages with at least B2-level proficiency
Internship Benefits
European Union under Blue Book Traineeship programme, is offering following benefits to its selected trainees,
All costs related to visa will be covered by the host organization
A monthly living allowance of 1300 euros per month.
All medical expenditure will be covered
Air Travel reimbursement
Eligibility Criteria
Candidates who have completed a standard 3-year higher education degree (180 credits), corresponding to a complete Bachelor's cycle, or equivalent.
have no prior work experience of any kind, in excess of 6 weeks in any EU institution, body or agency
You must have a very good knowledge of two EU official languages, one of which must be a procedural language
You can only apply once per session but for as many sessions as you want.
All candidates must declare 1 mother tongue
Also apply CERN Summer Internships in Switzerland
Documents Required
Following are the document required to apply for this Blue Book traineeship program
Table of Contents showing all the list of documents
Copy of a valid passport or identity card
Copies of all university diplomas you have declared to hold in your application
Copies of proof of enrolment in ongoing studies, if applicable
Documented written proof of certificates
Documented written proof of declared language skills, indicating the level obtained.
Proof of work experience in home country
Deadline
Last date to apply for European Union's Blue Book Traineeship Programme is 31 January 2023 for October 2023 session.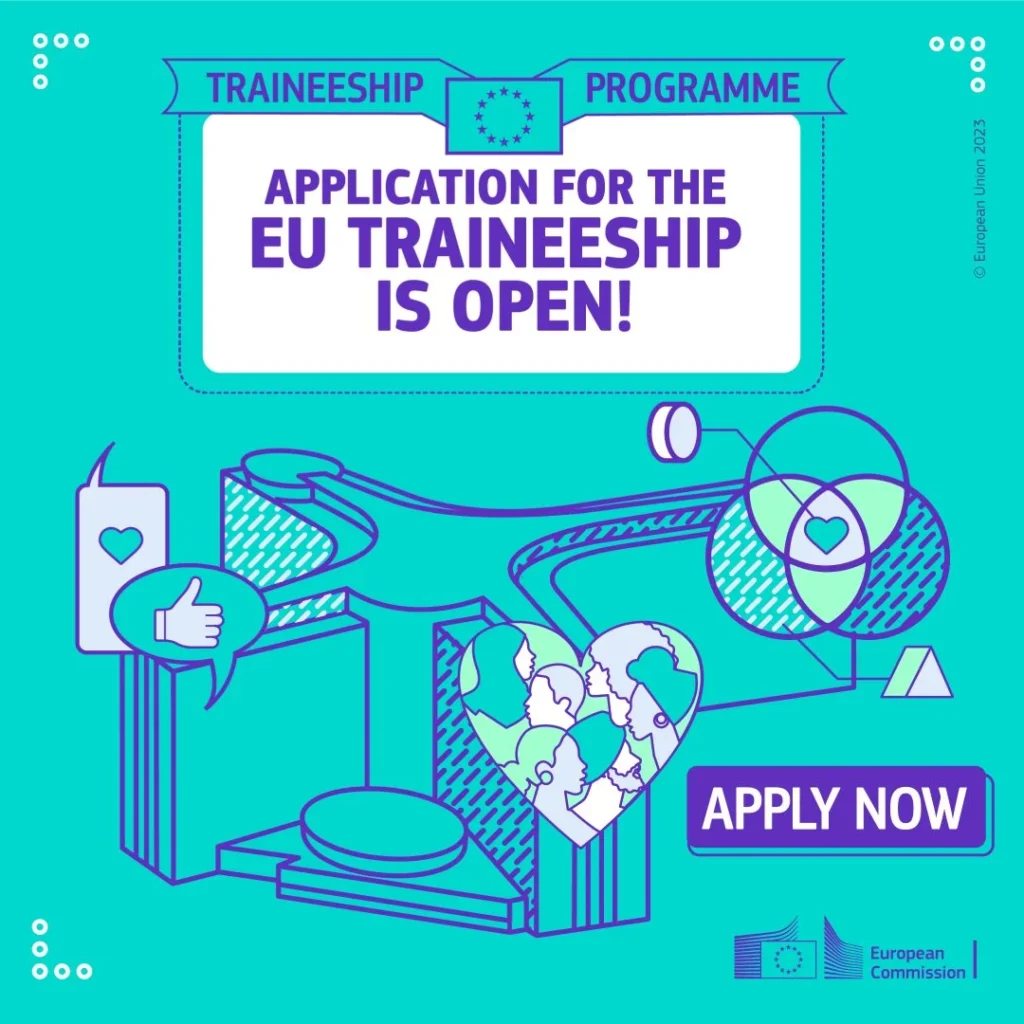 How to Apply
To apply for the European Union Trainee Internship complete the following steps,
1) Create a EU Login account or login if you have one already
2) Complete and submit the application form along with your supporting documents 
3) If successful, you will be invited to check the openings published on VBB portal and apply for a chosen traineeship post.